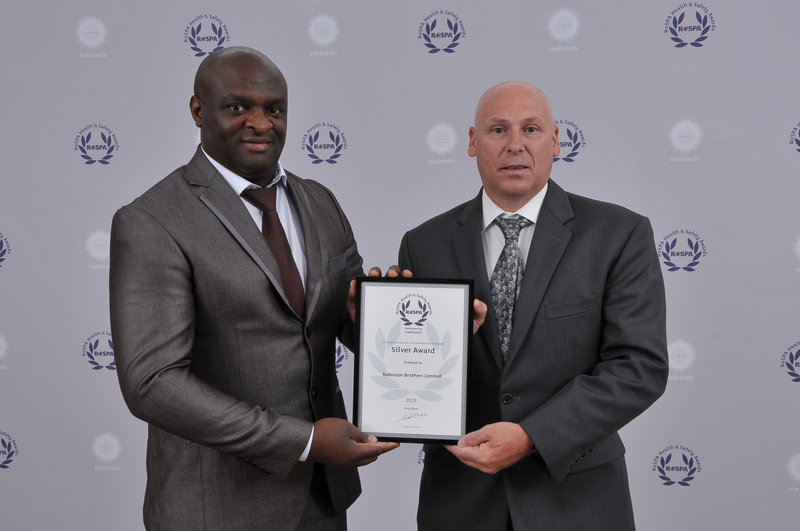 Robinson Brothers is awarded the Royal Society for the Prevention of Accidents (RoSPA) Silver Award for Health and Safety Practices
10 Jun 2019
Published in: Member News
---
Received RoSPA Health & Safety Award
---
Robinson Brothers has been awarded a prestigious award in recognition of its practices and achievements in helping its employees get home safely at the end of the working day.
Robinson Brothers has achieved a Silver in the internationally-renowned RoSPA Health and Safety Awards, the longest-running industry awards scheme in the UK. The team were presented with the award during a ceremony at Hilton Birmingham Metropole hotel on Thursday, June 6, 2019.
The RoSPA Awards scheme, which receives entries from organisations around the world, recognises achievement in health and safety management systems, including practices such as leadership and workforce involvement.
"Achieving a RoSPA Silver Award on our first ever attempt is a clear demonstration of our core values of continuous improvement in developing better and safer systems of work. This is evident in the daily commitments to safety by the entire workforce; from the Managing Director through to the Plant Technical Operators. Our activities include setting key performance indicators, assessing risks in processes and taking ownership in maintaining a safe working environment. This award was possible because of the improved safety communication and teamwork by the workforce. We are looking towards the Gold Award for next year", said Mark Burke, Safety, Health and Environment Manager at Robinson Brothers.
Julia Small, RoSPA's head of qualifications, awards and events, said: "The RoSPA Awards have become the key fixture in the health and safety calendar with new sponsors and new awards this year including the Leisure Safety Awards, the Safe@Work Safe@Home Award and the Inspiration Awards. Highly-respected, with almost 2,000 entrants every year, RoSPA award winners benefit from the wide-ranging rewards of improved sector reputation."
About Us
Robinson Brothers is a leading UK chemical manufacturer of fine chemicals and rubber accelerators. We serve a variety of international markets, including: Pharmaceutical, Agrochemical, Rubber, Food & Beverage and Material Sciences. Our core competences include Hydrogentation, Carbon disulfide chemistry, Heterocyclic chemistry, Amination and Thiolation.
Robinson Brothers is celebrating 150 years of business! #150RBL
Robinson Brothers Limited | West Midlands | B70 0AH UK
T: +44 (0)121 553 2451
E: enquiries@robinsonbrothers.co.uk
W: www.robinsonbrothers.co.uk
External link: www.rospa.com/awards
Submitted by Jaspreet from Robinson Brothers Limited