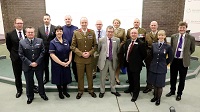 RWT Signs the Armed Forces Covenant
19 Mar 2018
Published in: Member News
---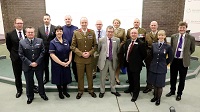 The Royal Wolverhampton NHS Trust has reinforced its commitment to providing support to the armed forces community by signing the Armed Forces Covenant.
By signing the covenant, the Trust has pledged to provide support to serving and retired personnel and reservists among its staff.
The covenant also allows a more open and honest relationship between the Ministry of Defence, reservists and their employers.
---
The Trust has already been recognised as a forces friendly organisation and was awarded the bronze employer recognition award last year.
Bill Allen, from the 335 Medical Evacuation Regiment, works in critical care at New Cross Hospital in Wolverhampton.
He originally trained as a military paramedic.
He said: "It is great to be here today to see the signing of the covenant. The NHS and the military have many similarities and similar skills are used in both fields.
"Having an employer who values the work we do as reservists is enormously important. The trust is very supportive to armed forces personnel."
Steve Price, Senior Category Manager of Procurement, said: "I joined the Procurement team at RWT back in 2006.
"My first job was an apprentice technician engineer before I joined the Royal Navy and after that I had a diverse career before joining the NHS.
"The covenant signing means that ex-military servicemen are supported at the Trust. It recognises that being ex-armed forces means something."
Alan Duffell, Director of Workforce at RWT, said the scheme was something close to his heart, having come from a military background.
He said: "I started my career as an Avionics Engineer in the Royal Airforce.
"I never thought I would see myself working in the NHS but looking back now both have a lot of similarities. For example both rely on team work, both have clear rules and terms and conditions and both are fundamentally people services.
"The NHS has given me some great roles and also a good transition.
"The reservists we have in the organisation provide valuable skills and experience and make a huge difference. The armed forces produce some very skilled staff who we would welcome into the NHS."
David Loughton, Chief Executive of RWT, added: "Signing the Armed Forces Covenant today show how we are proud to provide as much support as possible to the armed forces community.
"There is more to hospitals than just doctor and nurses and we have lots of roles that former armed forces and reservists can help fill with their expert skills developed during their military training and deployments."
To find out more visit: www.armedforcescovenant.gov.uk.
Comments
No comments have been submitted yet.