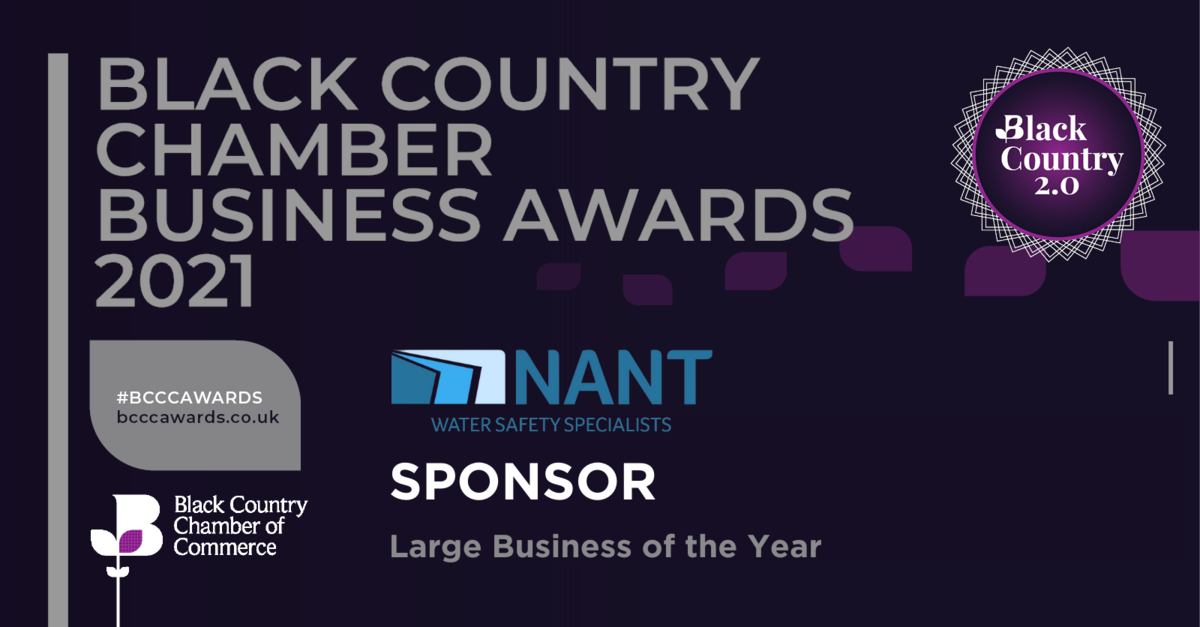 Sponsor Announced for Large Business Award
16 Sep 2021
Published in: Black Country Chamber of Commerce News
---
Sponsor Announced for Large Business Award
---
Sponsor Announced for Large Business Award
The Black Country Chamber of Commerce have announced today that Wolverhampton based Nant Water Safety Specialists, one of the country's leading water safety companies, are to sponsor this year's Large Business of the Year Award at their annual business awards reception later this year.
The Bilston based business, which provides comprehensive water safety services for care homes, schools, hospitals, hotels and local authorities, was originally established back in 1994 to provide top quality service in the control of Legionella.
Managing Director, Carl Baker said, "Nant are extremely pleased to be able to sponsor the Large Business award this year.
"In turbulent times, the awards are a fantastic opportunity to showcase success stories and to demonstrate the resilience of large businesses we have within the Black Country."
Businesses from every sector employing more than 50 full time employees are eligible to apply for the award, with winners announced at an Awards Reception following the Black Country 2.0 Business Conference on November 11th.
The region's longest running business support organisation will announce winners in eleven categories from those businesses and leaders who have faced tremendous adversity in recent months but have shown amazing resilience and ingenuity and achieved astonishing turn around results during the pandemic.
To find out more about this years' award categories and the Black Country 2.0 Conference, visit:
https://www.blackcountrychamber.co.uk/events/category/black-country-2-0/
-ENDS-
---
Notes:

The Chamber's biggest campaign in its 180-year history, Black Country 2.0, is an initiative launched earlier this year to focus the Chamber's lobbying and business support work and helping its members to reboot and rebuild whilst enabling businesses to rebound as they navigate the end of the Brexit transition period and the COVID-19 pandemic.
The Conference, will be held at Wolverhampton Racecourse on the 11th of November, will feature a range of speakers from the business and policy world and a small physical audience, it will be followed by the Black Country 2.0 Awards Reception for shortlisted applications. Both events will be streamed virtually for those unable to attend the physical events.