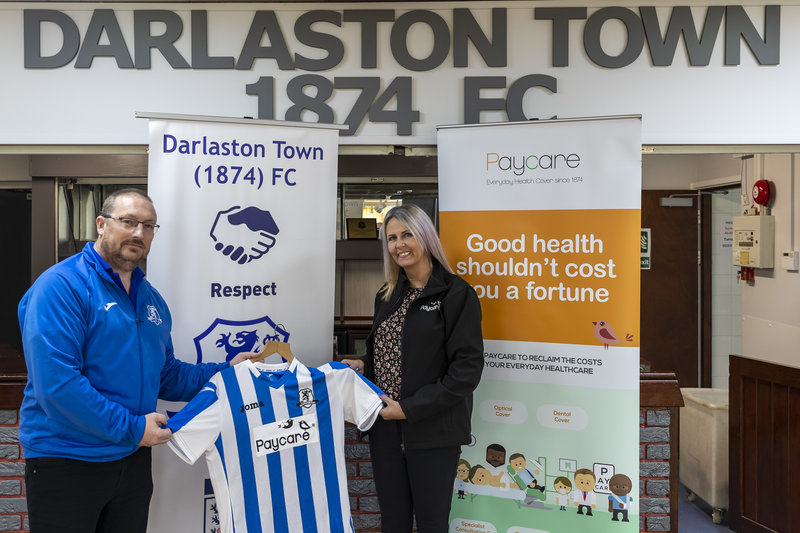 Sponsorship deal extended as football club gets ready for new season
24 Jul 2020
Published in: Member News
---
Paycare has announced it will be extending its sponsorship of Darlaston Town (1874) FC for a further three years.
---
Black Country organisation Paycare is set to continue its sponsorship of a local football club for another three years.
The announcement that the Health Cash Plan and Wellbeing Provider would be supporting Darlaston Town (1874) FC all the way up to the end of the 2023/24 season comes in the same week as the FA decided local football leagues could resume from September.
This means it's just six weeks until the club's team can start playing at The Paycare Ground, named after their main sponsors who also feature on the home shirt of the first team.
Club Chairman Neil Chambers said: "This is fantastic news and a boost for everyone at the club. Paycare has been our main sponsor for the last six years, so to extend their sponsorship for this forthcoming season and a further three seasons is wonderful, especially given these difficult times.
"Our progress and development over the last six seasons has been achieved with the support of Paycare and with this news we look forward to continuing our development plans."
While no games have been played since March, there has been plenty of activity at the Black Country ground, including the refurbishment of the dressing rooms and the main club room, and reconfiguring the space to create a fully-equipped gym. These new facilities will provide much-needed strength and conditioning equipment for players, as well as vital injury rehabilitation and prevention provision.
This extensive work has been carried out by a team of loyal and dedicated club volunteers – and planning permission has now been granted for additional grandstands and security fencing, so even more improvements will happen during the upcoming season.
Sally Bromley, Paycare's Partnership Engagement Officer, added: "The Paycare team is absolutely delighted to confirm that we will be extending our current sponsor partnership with Darlaston Town (1874) FC for a further three years beyond the forthcoming season.
"It is amazing to see the works that have been safely carried out during the lockdown months, and to know what a positive impact these improvements will have for everyone at the club and the local community. To have such a dedicated and passionate group of volunteers with Darlaston Town at the very heart of everything they do can only bode well for the future of the club.
"We are extremely proud to continue our support of Darlaston Town, their fans and our community, and wish the club every good luck for the forthcoming season in the West Midlands Regional League Premier Division."
Since 1874, Paycare (formerly known as Patient's Aid Association) has worked to help individuals, families, businesses, and their employees access a variety of preventative and reactive healthcare services which protect their financial, physical and mental health and wellbeing. Its dedicated mental health service — Paycare Wellbeing — launched in 2019 and provides qualified and confidential training to Corporate Groups including Managers, CEOs and HR teams.
For more information about the organisation, please visit www.paycare.org or call 01902 371000.

Submitted by Jennie from Paycare