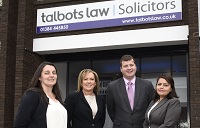 'Star' Employer Recognition for Talbots Law
06 Feb 2018
Published in: Member News
---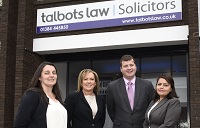 Talbots Law's commitment to becoming an employer of choice in the West Midlands has received a major boost this week after it was named as one of the best places to work in the UK.
The independent legal specialist was awarded a 1* rating by the Sunday Times' "Best Companies To Work For' survey, an impressive achievement considering it was the firm's first-ever application.
Every employee was asked to complete an independent survey of their experience of working at Talbots, comprising 70 searching questions based on "8 factors of workplace engagement'.
---
These included Leadership, Personal Growth and Giving Something Back, with the analysis of staff responses revealing what it's really like being an employee at Talbots Law.
"We were absolutely delighted with a 1* award - this means we are officially "very good' in Best Companies terms" explained Mary Mocklow, Chief Executive of Talbots.
"We have set ourselves the ambitious target of getting into the Top 100 within five years. Our first application was about gauging our position and what we needed to do to be successful."
She went on to add: "It is a great exercise for any business, especially if you want to take the temperature of your company, to understand what you are doing well and find areas for improvement.
"We want to be an employer of choice in the Black Country and Worcestershire and this doesn't just magically happen. In essence, we need a team of passionate and talented people doing the right thing and receiving the best possible support and personal development opportunities.
"Passion is one of our core values. The Best Companies programme ensures we are benchmarking what we do"¦ not just against other law firms, but against the very best businesses from every sector."
Talbots, which is targeting £12m fees in 2018, scored consistently across the board and was specifically praised for its approach to Wellbeing, Sense of Team and Personal Growth.
"The Sunday Times recognition was announced at our annual staff conference and the response was fantastic, with a real sense of achievement present," added Mary.
"We increased our head count by 20% last year taking on 38 new staff and 7 apprentices. As we look to add £1m of fees over the next twelve months, there is a real need to recruit the best staff."
She concluded: "This 1* award will help us retain and attract the very best people who can deliver the great service our clients rightly expect."
Talbots has seven offices across the Black Country and North Worcestershire, including Dudley, Kidderminster, Stourbridge and Wolverhampton,
For further information, please visit www.talbotslaw.co.uk or follow @talbotslaw on twitter.