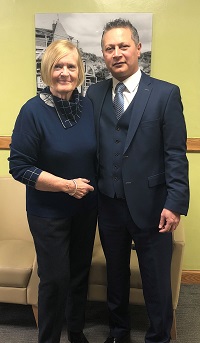 Superb Shoulder Surgery Enables Return to Stitching!
04 Jan 2018
Published in: Member News
---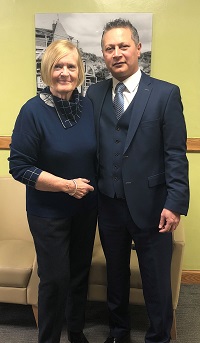 Dr Jill Campbell, a retired dentist from Jersey suffered shoulder trouble for the last 40 years, until she saw Mr Richard Dias at Nuffield Health, who repaired a cuff tear and impingement, returning her to full working order. An excellent result of surgery combined with physiotherapy.
During her working life, with a family of four children and a career as a dentist, Dr Campbell just got by as she didn't want to risk either of these passions. She says she thinks the shoulder problem was caused simply by the wear and tear of everyday activity as a dentist and a working mum. Now 75, she loves to stitch and do quilting at her home on the island of Jersey. When her shoulder suddenly worsened in December 2016, she knew that something would have to be done, especially as sleeping became increasingly difficult. Fortunately through her sister-in-law, a retired radiographer from Nuffield Health Wolverhampton Hospital, she was put in touch with shoulder specialist Mr Richard Dias and chose to undergo surgery in June.
---
Dr Campbell says, "My treatment was simply superb! I count myself lucky to have been able to find the right person for the job, who was recommended through a family contact. I have private healthcare and relatives in the area, so Nuffield in Wolverhampton was ideal for me. I was only in for a day but the hospital was perfect and the experience was very good indeed. I worked hard at my physiotherapy and I was careful not to overdo it with my shoulder until it was fully healed. I am an avid stitcher and now I have been discharged can really go for my needlework again!"
Following the surgical repair to her rotator cuff and to treat impingement, Dr Campbell had physiotherapy back home in Jersey for five months. She had to wear a sling for six weeks and came back for three check ups with Mr Dias at the Nuffield private hospital.
Mr Dias is an orthopaedic trained upper limb and hand surgeon who specialises in shoulder, elbow and hand and wrist surgery in his private and NHS practice in Wolverhampton.