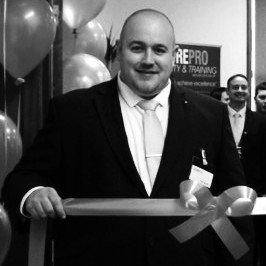 Supporting Armed Forces Week
25 Jun 2020
Published in: Black Country Chamber of Commerce News
---
Supporting Armed Forces Week
---
Supporting Armed Forces Week
Tom Booth, Group Director of Four Circles Group t/a SecurePro is a long-term advocate of the Armed Forces and has seen first-hand the business benefits of employing ex-service and reservist personnel.

Founded in 2005, SecurePro is a West Midlands based security and crowd management business and forms part of the Four Circles Group which holds nationwide contracts in security, crowd management, training, enforcement and debt recovery.
"SecurePro employs circa 350 security staff to manage security at large scale events including festivals and sporting fixtures as well as the night economy.
"We are proud of our company's reputation for delivering quality, professional solutions and for this we need staff that uphold our values. In my experience ex-service personnel bring the whole package; reliability, work ethic, suitability and appearance, general all-round good people able to work and adapt to different situations quickly and often in solitary roles.
"Their professional work ethic, dedication and team spirit is exactly the type of person we need in our business."
SecurePro is an Armed Forces Covenant signatory and holds a Bronze Defence Employer Recognition Scheme Award.
The award represents SecurePro's commitment to serving personnel, reservists, veterans and military families.
"The Armed forces Covenant is a pledge we take very seriously at SecurePro, we understand the role of our Reservist staff and we ensure they are given the support and time needed to carry out their reserve duties. This has been particularly important during the COVID-19 pandemic as several of our reserve staff have been called upon to undertake frontline roles.
"We are also keen to support the younger soldier and in my role as a Rugby Coach, I have encouraged several from my Colts team to join the cadets and take work experience roles with SecurePro, this combined experience has led to a couple successfully joining the regular Army. The training my reservist staff receive and the level of education the MOD invests into its personnel is second to none.
We feel that by supporting our reserve, cadet force and Veterans we are attracting a high calibre employee, which in a company where people are our biggest asset is a huge business benefit."
Want to learn more about SecurePro visit their website https://www.secure-pro.co.uk FB @www.securepro.org
Twitter: @secureprouk LinkedIn: https://www.linkedin.com/company/securepro-security-training-ltd/?viewAsMember=true Instagram: https://www.instagram.com/securepro2/