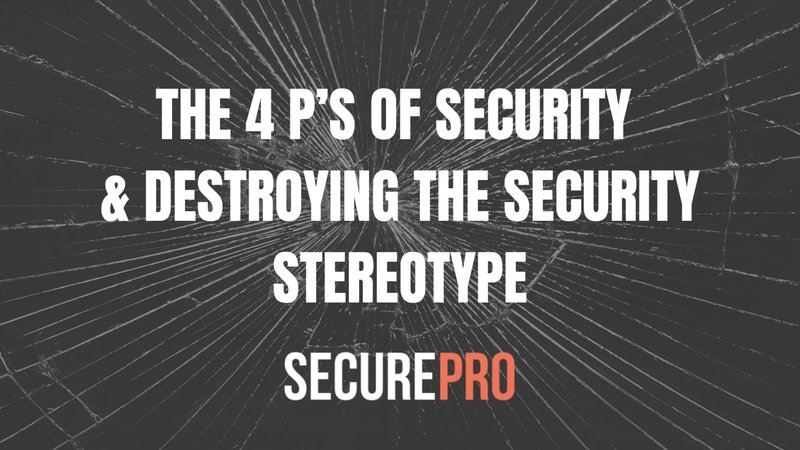 The 4P's of Security & Destroying the Security Stereotype
01 Jul 2020
Published in: Member News
---
Security Industry Authority who regulate the Private Security Industry see all those who fall under the security banner as part of an "extended Police family," so why do security staff have such a bad reputation?
---
Security, noun; the state of being free from danger or threat.
What do you think when somebody says the word security? Usually, it immediately draws up an image in your mind, this image can differ from person to person but commonly an image of a fence, a burglar alarm, a CCTV camera or an old fashioned bouncer wearing a black suit, white shirt sporting a bald head and probably sunglasses spring to mind.
Similarly, if you Google the word security you are surrounded by pictures of padlocks, CCTV cameras and lookalike American police officers with a gold star badge or shield pinned to their chest. With these images and stereotypes floating around it is no wonder that security staff get a bad reputation before they even step foot out their houses to go and protect people and the places they work, whereas the Security Industry Authority who regulate the Private Security Industry see all those who fall under the security banner as part of an "extended Police family," so why do security staff have such a bad reputation?
We are not naive and have heard the horror stories about security guards stealing from properties and door supervisors assaulting people, but these inexcusable isolated incidents seem to have tarred the entire industry with the same brush creating a stereotype of bullies and people who can't be trusted, many a time we have heard the saying "if you can't trust the security, who can you trust" said with a sly grin or knowing smile, and for that reason, we want to destroy the stereotype of the essential security officer.
Easy Targets
Security staff are usually easy to blame when something goes wrong, in part this is because they aren't seen as proactive, they don't look like they are doing anything so can be blamed for being lazy when the reality is security is a deterrent so while they aren't doing anything or are perceived to be doing nothing, they are actually doing exactly what they are being paid to do. If we compare them to an alarm, the alarm just sits there in the corner of the room doing nothing until it is time to do something, then it springs into action and wakes everyone up but nobody ever complains that the alarm is there and then blame it for other things going wrong as well.
We believe that the essential security guard is undervalued and underpaid considering the levels of qualifications and pre-employment vetting they must undergo to operate in the industry; in reality, the security is the eyes and ears of your business and an ambassador of your company image, for example, if you employ a security officer as a gatehouse operator or a hotel concierge, they are the first thing that any customer, supplier or visitor sees when visiting your premises, it doesn't matter if you have the world's leading technology, systems, management team, product or innovative idea behind your office door because the first thing the potential buyer sees when coming to your premises is the security guard and you never get a second chance of making a first impression so why are the security so undervalued and only viewed as an overhead cost?
What people don't tell you about Security
Since the introduction of the Private Security Industry Act 2001 the role of a security officer and door supervisor has become more of a customer service role rather than an enforcement role. Security officers and door supervisors are strictly regulated by the Security Industry Authority whereby they need to undergo very stringent training including customer service, health and safety, physical intervention and conflict management ahead of sitting invigilated exams externally set and marked by an awarding organisation to qualify as an officer in their chosen field, be that Security Guarding, Door Supervision or CCTV Operations and Public Space Surveillance.
Upon the completion of their training, they need to apply for a Security Industry Authority licence before they are allowed to work, all of this training and the licence comes at a cost to the individual at around a total of £400.00, a fee that is not commonly picked up by their employer, so the officer has to pay out before they even get into the industry and start earning. In addition, if they want to work at sports grounds as a football safety steward or at events and music festivals as crowd management operatives they need to undertake further training specified by the Sports Ground Safety Authority such as an NVQ in Spectator Safety or a qualification in Front of Stage Pit Barrier Operations.
Security staff are the unsung heroes of many businesses, you can regularly find them at hospitals, offices, supermarkets, NHS testing centres and factories to name but a few; quietly and professionally protecting your business whilst maintaining their main objectives known as the 4 P's of security:

– The Protection of Life
– The Protection of Property and Premises
– The Prevention of Loss and Waste
– The Prevention & Deterring of Crime.
Over the last few months, the Security Industry Authority have been sharing the stories of security operatives who have gone above and beyond to protect the public using the hashtag #SIAHeroes.
Since the COVID-19 pandemic began the private security industry responded quickly and many security operatives and businesses have been working as critical and key workers to protect the public and key infrastructure.
Here at SecurePro we salute this recognition and hope the initiative is an ongoing one to continually recognise the efforts of not only our security staff but all security staff throughout the industry.
Have we opened your mind towards security and managed to change your opinion on security operatives, we hope so? If you'd like to learn more about protecting your business – check out our FREE ebook.
Submitted by Tom from Four Circles Group Ltd