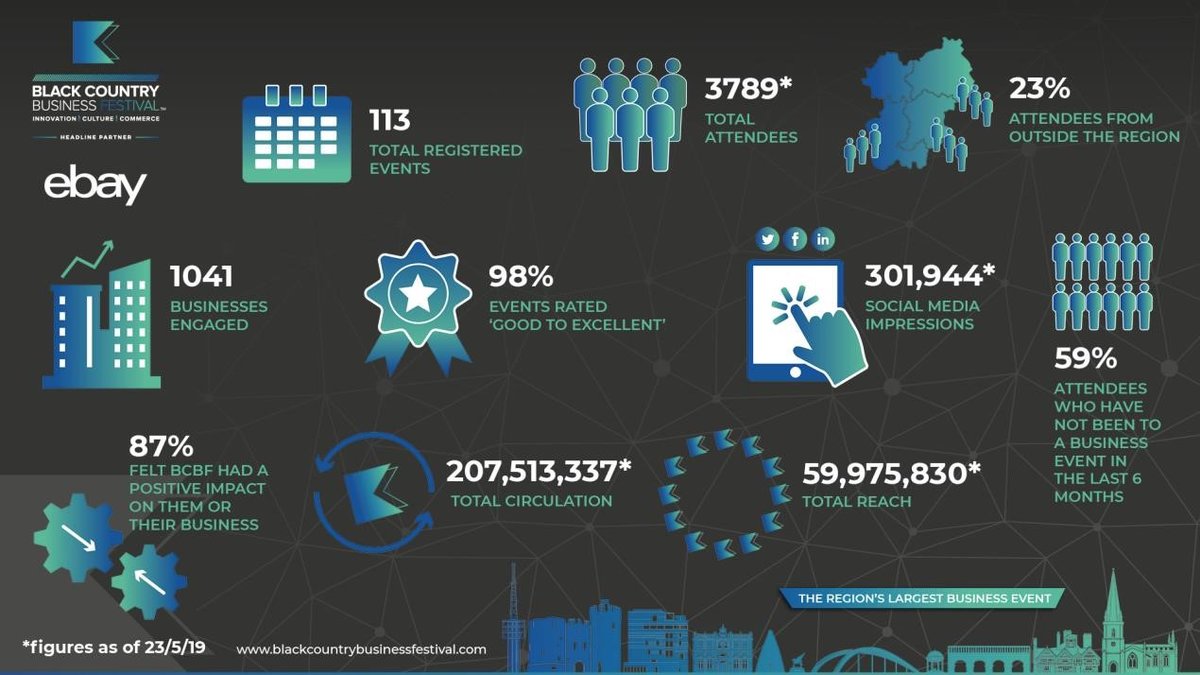 The biggest business event in the region ends in style
24 May 2019
Published in: Black Country Chamber of Commerce News
---
After two exceptionally busy and very exciting weeks, the 2019 Black Country Business Festival fortnight has drawn to a close with the final event of the Festival at the Black Country Living Museum this afternoon [24 May].
---
Delegates celebrated the success of the 2019 Business Festival which this year saw an incredible of 113 registered events and nearly 4000 attendees, 23 per cent of whom came from outside the region. Interim statistics were presented along with video highlights of the fortnight and a few awards were also given out for notable achievements.
The University of Wolverhampton won the 'Most Engaged' award for running 13 brilliant events, producing their own mini-Festival brochure, creating a dedicated web page and being extremely proactive on social media.
The 'Best Creative Event' went to 'Barry Potter and the Chamber of Commerce' run by Flying Ducks; whilst the Black Country Housing Group won the 'Best Social Impact' award for their event, 'A Rich Source of Talent', which aimed to show the employable skills of ex-forces personnel.
The final award, the 'Most in Demand' went to the Grand Theatre for their 'Public Speaking with Confidence' event which filled up quickly that more tickets needed to be made available.
Stand-out statistics of the 2019 Festival included an incredible marketing reach of nearly 60 million and 302,000 social media impressions.
Over 1000 different businesses were involved and 87 per cent felt the Business Festival had a positive impact on them or their business.
The Festival was initiated in 2018 by the Black Country Chamber to benefit the people and businesses in the Black Country; stimulate growth and to draw attention to region.
Corin Crane, Chief Executive said,
"We've enjoyed an amazing fortnight of brilliant events once again this year. We've seen everything from speed networking, expos, creative and cultural demonstrations to factory showroom tours and various sporting networking days. We've welcomed the heads of the country's top business support organisations, leading AI legal futurists, the Department for International Trade and.…Barry Potter! It just doesn't get any better than that!
"In all seriousness, events this year have been mind-blowing - and 98 per cent of people agree having rated the events they attended as good to excellent. We're also seeing new people with 58 per cent telling us they have not been to a business event in the last six months.So from the Chamber's perspective, the Festival is doing everything we wanted it to and more. So much so, we've already set the dates for 2020: Monday 11 to Friday 22 May and we want everyone to put it in their diaries now and get thinking about how they can get involved."
One way to become an integral part of the Festival is through partnering or sponsoring. This year's headline partner has been on-line retailer, eBay, which launched its first UK, 'Retail Revival' scheme in Wolverhampton in November 2018 to help local retailers to start trading online to complement their existing shops.
Rob Hattrell Vice President at eBay UK, said:
"The past two weeks of the Black Country Business Festival have been fantastic. It's been a truly enlightening event that's been great for local entrepreneurs and businesses in the region.
"During the Festival, eBay opened the doors to its first ever UK concept store in Wolverhampton, where we've been showcasing the products of some of the brilliant local sellers participating in our Retail Revival programme. eBay takes great pride in nurturing local businesses and the pop-up 'Home Grown by Wolverhampton' gives visitors the ability to connect and learn more about their local retailers, whilst demonstrating the positive impact the programme has already had in helping these businesses flourish. It's open until the 6th June and I encourage everyone to visit and show their support.
"We've loved partnering with this thriving region and are excited to build on this success and to see what we can achieve over the next six months."
Watch the festival events highlight here.
Other partners have included: DY5 – Dudley's Business and Innovation Enterprise Zone, Talbots Law, the University of Wolverhampton, Birmingham Airport, Black Country Local Enterprise Partnership and Black Country Growth Hub. Sponsors have been Casino 36 and M6 Toll. Supporters were Wolverhampton Racecourse; accountancy firm, Crowe; Wolverhampton Grand Theatre, Think Sandwell, Gecko Programmes and Walsall Council. Media partners have been Signal 107, the Express and Star, outdoor media experts, Elonex and Infonote Datasystems. The Festival once again has been run in association with Associate Events. For more information about the Business Festival, visit www.blackcountrybusinessfestival.com