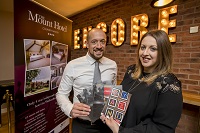 The Mount Hotel Joins Grand Theatre Business Club
22 Jan 2018
Published in: Member News
---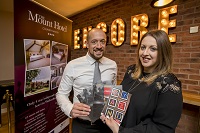 Wolverhampton Grand Theatre has kicked off the New Year by welcoming The Mount Hotel into its Business Club.
The four-star hotel has taken Grand Premier level membership. This entitles The Mount to benefits including complimentary tickets to shows, advertising and use of function rooms in the theatre.
Both the Grand and The Mount are iconic venues in the city with shared history thanks to the Mander family.
---
The Manders acquired The Mount in 1890 and was designed as a home for entertaining, officially as well as privately. In June 1894, Mayoress CT Mander laid the Grand's foundation stone, which can still be seen behind its foyer bar.
By joining the Grand Theatre Business Club, The Mount will have access to new markets and diverse audiences.
Aine Plimmer, Revenue and Sales Manager at The Mount Hotel and Conference Centre, said: "We are excited about the opportunities that joining the Grand Theatre Business Club holds. As well as a shared history, we believe we have a shared ethos with the Grand. We both have a strong commitment to excellent customer service, developing relationships with the community and have a family approach to business. The club will give us opportunities to meet new clients and develop new networks and we look forward to promoting the hotel in the theatre environment."
The Grand recently held its Panto Launch Party at The Mount and is planning an Afternoon Tea for Friends of the Grand members there in April.
Vicky Price, Associate Director of Development and Communications at the Grand Theatre, said: "We are delighted to welcome The Mount into the Business Club. There is a clear synergy between the Grand and The Mount. We are two jewels in Wolverhampton's crown, offering an escape from "real life' - whether it's watching a show on stage or a luxurious break and delicious meal in the hotel. By working together, we can showcase the best that the city has to offer and make a significant contribution to the tourist economy in Wolverhampton."
The Grand welcomes more than a quarter of a million people every year, so by joining the Business Club local companies have a captive audience to communicate their messages.
For more information please contact Charlotte Davies on 01902 573300 or email charlotted@grandtheatre.co.uk.