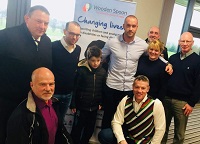 Thursfields Holds Charity Dinner in Aid of Wheelchair Rugby
03 Apr 2018
Published in: Member News
---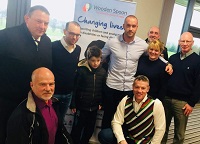 Thursfields Solicitors is holding a charity dinner to raise thousands of pounds towards a new wheelchair rugby club in Birmingham.
The leading Midlands law firm is now inviting businesses to buy tickets for the glitzy, black tie dinner at The Reddings Suite, Birmingham Moseley Rugby Club on Friday 18 May.
Former England and British Lions rugby star Tim Stimpson will be hosting the event, with guest speakers including former Wales and British Lions legend Phil Bennett and wheelchair rugby Paralympian Alan Ash.
---
Ticket cost £75 each or £700 for a table of ten at the evening, which will include live music, a three-course meal and a charity auction.
All funds raised will go to Wooden Spoon rugby charity and will be spent on the creation of a Birmingham Moseley Wheelchair Rugby Club, the city's first wheelchair rugby club.
Gareth Burge, director at Thursfields Solicitors, said: "Thursfields is delighted to be working with Wooden Spoon and Moseley Rugby club to raise funds for this exciting project.
"We want disabled children and adults in Birmingham to have the same access to opportunities as others, but wheelchair rugby is an expensive sport - chairs are over £2,000 apiece.
"This project will help take cost concerns out of the equation and provide people with disabilities in the West Midlands the opportunity to play locally."
Wheelchair rugby - also known as "murderball" - is a full-contact disability sport and was one of the biggest hits at the London 2012 and Rio 2016 Paralympic Games. It's one of the only sports that allows men and women to compete on the same team.
Thursfields' relationship with the Wooden Spoon charity was strengthened following the recruitment of Moseley 1st XV player Ciaran Moore, who has been playing rugby for Wooden Spoon's Invitational 7s team since 2013.
Ciaran, a member of the dispute resolution team at Thursfields' Birmingham office, said: "Our core aim is to transform the lives of disabled children and young people through the power of rugby - so helping to create a wheelchair rugby team seems like a perfect fit."
Robin Johnson, a director at Birmingham Moseley Rugby Club, said: "We're really grateful to Thursfields for sponsoring this dinner which will hopefully raise the funds we need to create a wheelchair rugby club."
Sarah Webb, acting chief executive at the Wooden Spoon charity, said: "The formation of a new wheelchair rugby club in Birmingham will enable young people with disabilities better opportunities to play this exciting sport and help positively transform their lives."
To book tickets and tables at the dinner, call Mark Burgoyne or Lee Evans on 0121 443 3631.
Comments
No comments have been submitted yet.