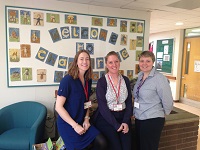 Thursfields' Lawyers Give Careers Advice at Bromsgrove Special Needs School
12 Jun 2018
Published in: Member News
---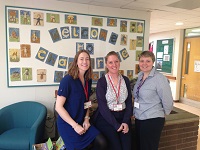 Two lawyers from Thursfields Solicitors have signed up to help a government-backed careers advice initiative for pupils at a special school near Bromsgrove.
Jessica Wheway, a solicitor in Thursfields' Residential Property team, and Hollie Styles, in the company's Family team, have become official Enterprise Advisers at Chadsgrove School in Catshill as part of the nationwide Careers Strategy.
---
The project, organised by The Careers & Enterprise Company, is aimed at preparing and inspiring young people for career opportunities and connections in the modern-day workplace.
Ms Wheway, based at Thursfields' Kidderminster office, identified the opportunity through contacts at Herefordshire and Worcestershire Chamber of Commerce, which is being delivered in partnership by Worcestershire LEP and Worcestershire County Council.
She said: "Our new role as Enterprise Advisers will see us giving up around eight hours a month to support our assigned school with the facilitation of careers related activity and help the school to establish business links and opportunities with local companies and workplaces.
"We're really looking forward to helping schoolchildren to become aware of all the different careers they could consider."
Ms Styles, based at Thursfields' Stourport office, added: "We've already met staff and pupils at Chadsgrove and were made to feel very welcome.
"It's going to be a pleasure working with the teachers and using our experience and connections at Thursfields to help pupils get a first foot on the career ladder - whether that be through work experience or by helping them to see what's out there."
Chadsgrove School and Specialist Sports College caters for pupils aged from two to 19 years of age who have special educational needs, physical disabilities or complex health needs.
Liz Morgan, assistant headteacher at Chadsgrove School, said: "We're delighted to have Jessica and Hollie joining us as Enterprise Advisers, and are really grateful to them for giving up their time to help us.
"They are both very enthusiastic about the Careers Strategy and I'm sure it will bring great benefits to our children who are considering what areas of work might suit them in the future."
Matt Tope, senior careers and enterprise co-ordinator with Worcestershire County Council, said: "The commitment made by Jessica and Hollie, and the way their interest has been supported by Thursfields Solicitors, is exactly the kind of input we need from local employers to help the Careers Strategy work."