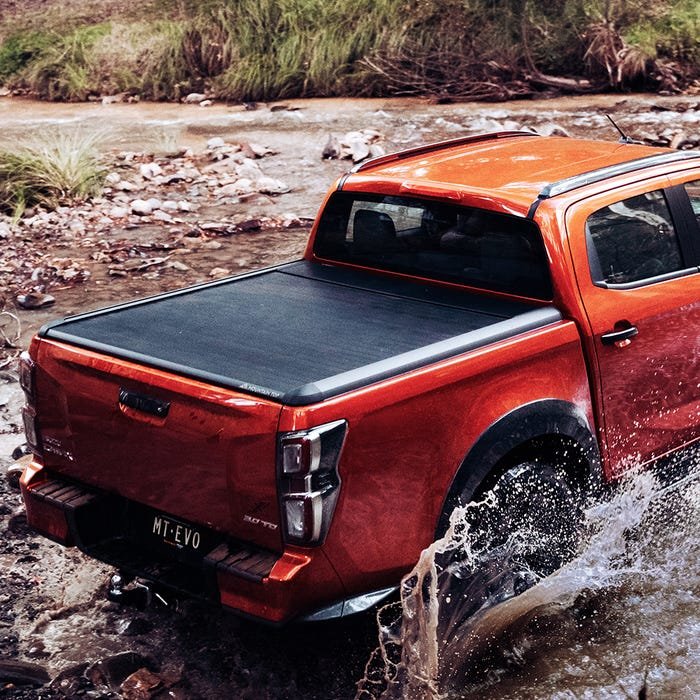 Truckman Goes Electric With Launch Of New Mountain Top EVOe Tonneau Cover
22 Sep 2021
Published in: Member News
---
Truckman, the UK's leading manufacturer and distributor of pick-up truck and 4x4 accessories, has expanded its range of tonneau covers with the introduction of the new electric Mountain Top EVOe.
---
Providing secure storage and protection from the elements for luggage and equipment, the EVOe utilises advanced technology for its convenient and safe operation.
Operated via a handy remote key fob, which activities a dual-speed belt drive and a soft-close mechanism, offering users the versatility to stop the roll cover in any position and allows versatile cargo storage.
An integrated automatic LED light activates when the cover is opened to help illuminate the truck bed and remains lit until the EVOe is closed.
In addition, the EVOe has a one-click auto calibration facility and a manual mode in case of power failure. The light also activates a blinking mode during the calibration process.
As an advanced safety feature, the EVOe has an emergency stop and reverse 'anti-pinch' function, which activates if it detects equipment or someone's hand between the profiles or the tailgate.
Sharing the stylish design, robust manufacture and many of the features of the recently launched Mountain Top EVOm, which is also stocked by Truckman, the retractable roll cover is available for the Double Cab versions of the Toyota Hilux, Mitsubishi L200, Ford Ranger, VW Amarok and the Double and Extra Cab models of the Isuzu D-Max.
Manufactured from lightweight powered aluminium, the EVOe has strength and durability required for a long life, and, with a smooth powdered coated finish and infinity design, its sleek and sporty styling matches the lines of modern pick-ups.
It is also highly secure with knife-proof aluminium slats and no external handle which helps prevent any unauthorised access to the truck bed. The EVOe's design also helps maximises truck bed storage.
The cover sits on top of the bed, which increases clearance height and features the smallest storage canister on the market which provides more space for storing cargo.
Weather resistant, the EVOe is designed and has been rigorously tested to withstand the wettest conditions, boasting a 6-point clever water management system that can drain up to 40 litres per minute.
With its unique ClickTech™ system and built-in accessory tracks, the EVOe is easy to install and can be adapted with accessories such as bike carriers, cross bars, roll bars and other off-road accessories.
The Mountain Top EVOe is available from £1,778.38 exc. VAT and can be ordered from www.truckman.co.uk.
Mike Wheeler, Executive Chairman of Truckman, said: "From engineers carrying tools to outdoor enthusiasts transporting bikes, the EVOe is an ideal accessory for secure and safe storage that will help them on their everyday adventures and activities.
"We're delighted to be able to offer this latest quality innovation from Mountain Top, which enhances our collection of tonneau covers and gives both commercial and leisure pick-up users a new storage solution for their vehicles.
"The addition of an electric version of the highly durable and secure EVO covers will be welcomed by customers who appreciate Mountain Top's cutting-edge engineering and sleek designs and will benefit from its safe, automatic operation."
See our tonneau cover range here

Submitted by Stephanie from Auto Styling Truckman Group