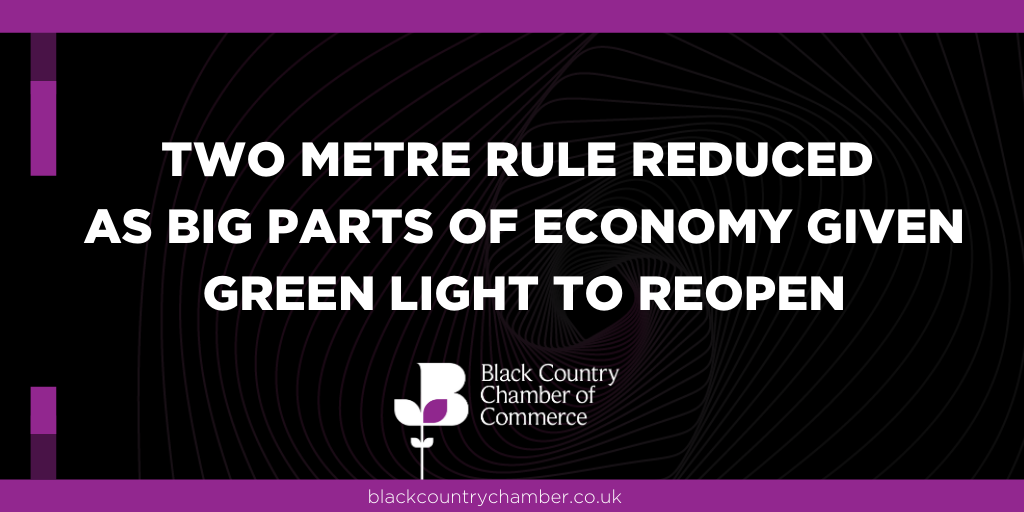 Two Metre Rule Reduced – As Big Parts of Economy Given Green Light to Reopen
23 Jun 2020
Published in: Black Country Chamber of Commerce News
---
Hibernation is coming to an end……..
---
The prime minister has today announced a reduction in the two-metre social distancing rule, as he gave the green light for pubs, restaurants, hotels, hairdressers, and barbers in England to reopen from 4th July. Setting out the latest easing of the lockdown, the PM said the two-metre social distance will be reduced to 1m-plus.

And on the easing of the coronavirus lockdown, Boris Johnson said the "national hibernation" is coming to an end and "life is returning to our streets".
Lifting lockdown: All you need to know

The meeting of households will not be exclusive, but unlike the bubble system people will have to maintain social distance - so family members who live apart will not be able to hug.
Mr Johnson said people will be encouraged to use "mitigation" - such as face coverings and not sitting face-to-face - when within 2m of each other and "where it is possible to keep 2m apart, people should".
The prime minister also said, "Our principle is to trust the British public to use their common sense in the full knowledge of the risks, remembering the more we open up, the more vigilant we need to be."
The venues listed as being able to reopen include:
Pubs, bars and restaurants - but only with a table service indoors, and owners will be asked to keep contact details of customers to help with contact tracing
Hotels, holiday apartments, campsites and caravan parks - but shared facilities must be cleaned properly
Theatres and music halls - but they will not be allowed to hold live performances
In other changes weddings will be allowed to have 30 attendees, and places of worship will be allowed to hold services
Hair salons and barbers will be able to reopen but must put protective measures, such as visors, in place
What cannot open from 4 July
The following places will remain closed by law
Nightclubs and casinos
Bowling alleys and indoor skating rinks
Indoor play areas including soft play
Spas
Nail bars and beauty salons
Massage, tattoo and piercing parlours
Indoor fitness and dance studios, and indoor gyms and sports venues/facilities
Swimming pools and water parks
Exhibition or conference centres - other than for those who work for that venue
The changes to social-distancing guidance come after appeals from the hospitality industry and Conservative MPs. Current evidence suggests being 1m apart carries between two and 10 times the risk of being 2m apart, scientists advising the government say.
According to UK Hospitality 2m distancing would see, on average, venues trading at 30% capacity, whereas 1m would put it up to 70%. Some restrictions will stay in place and these include wearing a face mask on public transport, handwashing, screens, being outside and limiting time spent with others.
The Black Country Chamber of Commerce works on behalf of its members and offers vital business support.
There has never been a more important time, as businesses face the biggest economic downturn this country has ever experienced, to connect with the experienced business support agency.
The work that is being been done to champion the issues that members face, to lobby legislators, to give members a stronger voice at national and international levels and to play a part in rebuilding business and the economy is more vital than ever.
For further information please email: membership@blackcountrychamber.co.uk