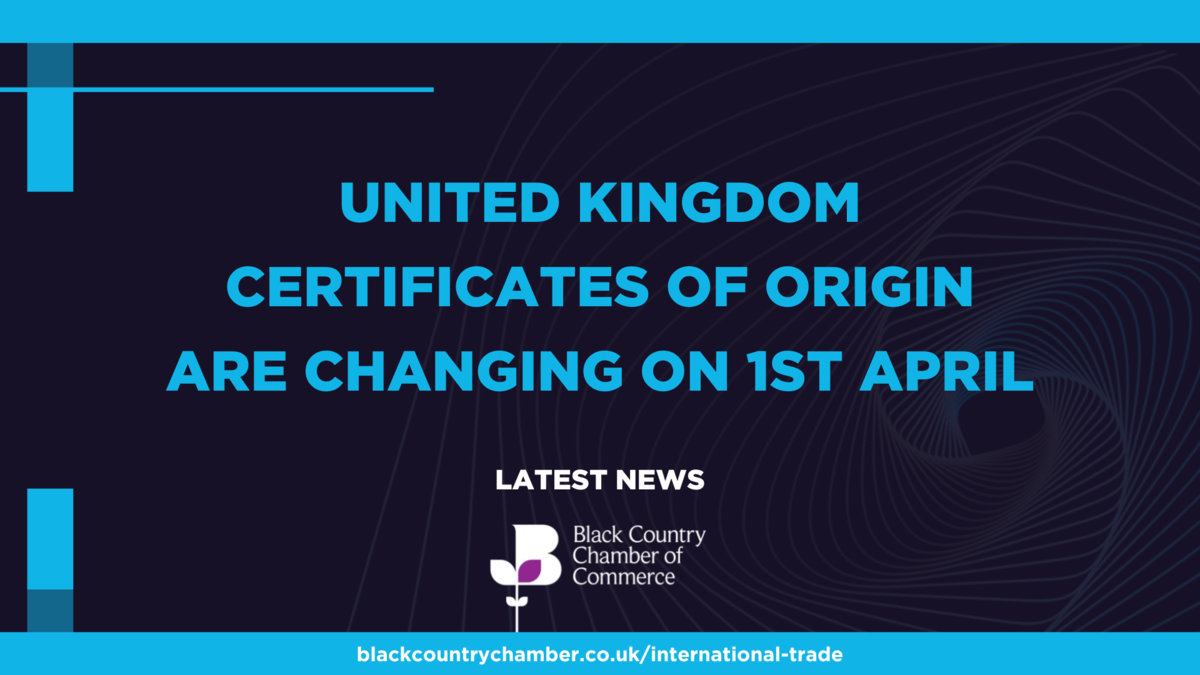 UK Certificates of Origin Change from 1st April
21 Mar 2023
Published in: Black Country Chamber of Commerce News
---
Plain paper United Kingdom Certificates of Origin will be issued from the 1st of April 2023
---
The British Chamber of Commerce (BCC) as the authorising body in the UK for Certificates of Origin has decided that plain paper United Kingdom Certificates of Origin will be issued from the 1st of April 2023 in the UK. Over 40% of Certificates of Origin issued worldwide are now printed on plain paper.
From the 1st April 2023 all applications will have to be made via our online platform and manual documents will no longer be available. If required, the Chamber can prepare and complete applications for you via the online platform, however this will incur an extra charge, as shown on our price list.
Certificates of Origin printed via the online platform have additional security features such as the QR code allowing anyone with the Certificate of Origin to scan the QR code and see an online version of the Certificate of Origin so they can check the version they have has not been amended or falsified. Anyone with the Certificate of Origin will also be able to verify the authenticity of the Certificate of Origin via the ICC verification website (https://certificates.iccwbo.org) Increasingly Customs authorities worldwide are looking to be able to verify Certificates of Origin online.
This will also simplify the printing of Certificates of Origin by exporters as they will no longer need to insert a blank Certificate of Origin correctly into the printer before printing. The new original COs will need to be printed in colour to a suitable standard that will be accepted by Customs authorities. The layout and style of the CO will not change. The copy and application copy will be printed in black and white.
EUR1 forms and Arab British Certificates of Origin will not be changing.
More details will follow in due course but in the meantime if you have any questions, please do not hesitate to contact a member of the team.
Click here to find out more about our documentation services.
Comments
I cannot create EUR1 for South Africa, Can you please advise. Thank you. Alison
Alison from Ideal & WRS Company Ltd
08/08/2023 09:05