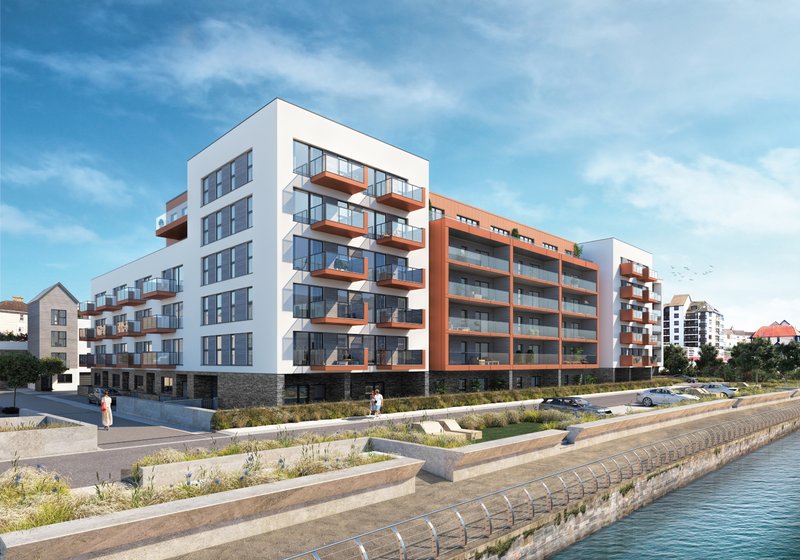 VIBRANT WATERFRONT DEVELOPMENT
15 Oct 2019
Published in: Member News
---
The £215 million waterfront development at Millbay in Plymouth is transforming what was once an unused docklands area into a vibrant waterside community, by bringing together some 140,000 square metres of housing, workspace, retail and leisure accommodation.
---
Steeped in maritime history, the heritage of the wider Millbay area can be traced back to the 12th Century when tidal mills were built in this natural water inlet. Centuries later, the Corporation of Plymouth sold the lease to Francis Drake and during the English Civil War, the harbour became a vital supply route for the city, which had sided with the Parliamentarians, as it was the only one in Plymouth that was out of reach of Royalist artillery.
In the 18th Century, the harbour started to take shape, with jetties, work yards and other facilities constructed.
Development of the area gained pace in the 19th Century, with Isambard Kingdom Brunel designing new docks as well as introducing a railway and customs facilities. Thus, Millbay's potential was realised, becoming an important commercial dock for freight and passenger traffic.
As the area fell into disuse in the 20th Century, it was identified as a strategic priority for regeneration in Plymouth thanks to its waterside location, proximity to the city centre and the positive socio-economic impact on the locality.
Working in partnership with Plymouth City Council, The English Cities Fund – a joint venture between Muse Developments, Legal & General and Homes England - embarked on a seven-phase regeneration programme which will, ultimately, deliver up to 600 new homes, together with offices, retail and leisure spaces, 171-berth marina, hotel, 1,000-place creative arts school and multi-storey car park.
Forming an integral part of this redevelopment is Quadrant Wharf, a £23 million quayside development of split-level houses and apartments which will provide 137 new homes.
Designed by architects, Ferguson Mann, the apartment blocks at Quadrant Wharf include two, five and six-storey structures forming Aqua House and Lye House, while a selection of cleverly designed split-level homes make up Canola Row, providing light and airy living areas with balconies and roof terraces.
The apartments offer one, two and three-bedroomed homes, including exclusive two and three-bedroomed penthouses.
With external facades finished in a combination of render, shiplap cementitious board, standing seam metal and stone, the apartments present a striking frontage looking over the Quadrant Quay marina.
The buildings were originally conceived as reinforced concrete construction when the designs were passed to main contractors, Galliford Try. However, as the company's Pre-construction Manager on the project, Diarmad Perry, explains, Metframe offered a more deliverable solution; "Previous experience with Metframe had proved the system to be economical and fast to use, and we knew that we could trust Metsec to value engineer a solution, which would translate the architect's designs into a quality, high-performance and robust structure.
"The pre-panelised, light-gauge steel system proved highly adaptable in enabling us to achieve the architect's design vision and, just as importantly, delivered buildings which would meet all of the performance criteria. In addition to fire, acoustic and thermal performance, these included consideration of the fact that the apartments were in a severe coastal environment and would need to meet NHBC and building control requirements."
Metframe components were assembled into lightweight panels by BR Hodgson Framing Limited at their specialist fabrication facilities at Upton upon Severn, before being delivered to site and erected by the company's installation team. The lightweight, loadbearing steel frame was installed above a ground floor podium deck.
Andy Petrie, commercial director at BR Hodgson, comments, "The Metframe system allows us to manufacture structural wall panels, complete with external boarding, and internal partition walls off site. The panels are inspected to assure quality before being delivered to site ready for immediate installation by our team.
"With working time on site limited to nine to five on weekdays and nine to twelve on Saturdays, construction time was at a premium and Metframe proved more than capable in allowing the project to proceed smoothly and efficiently. We cast the in-situ reinforced concrete floors and roof terraces on metal decking as installation progressed, and the structure quickly took shape; the frame was completed in a little over six months, enabling follow-on trades to complete external and roof finishes as well as the internal fit-out."
Metsec Framing Managing Director, Stephen Ginger concludes, "The apartments at Quadrant Wharf perfectly demonstrate the many advantages of using Metframe. Our design team was not only able to deliver the type of value engineered solution for which Metsec is renowned, but also to incorporate the project's special requirements, which included a variety of large and small balconies."
Submitted by Claire from voestalpine Metsec plc