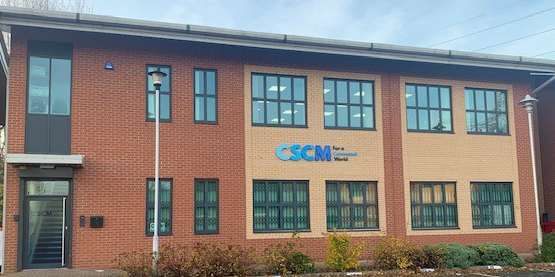 We Have Made Some Changes
06 Nov 2020
Published in: Member News
---
CSCM gets a fresh new look
---
Chamber Patrons CSCM Limited are celebrating big changes in the company this week, after what has been a busy and challenging nine months. A testing year so far for most, CSCM had a decision to make back in March when the UK came to an abrupt halt.
For most businesses naturally, the biggest concern was quickly finding alternative ways to work, as IT Patrons technology obviously did not pose any issues, as Cloud experts, working flexibly and remotely is what CSCM promote and endorse. With the majority of their customers already using CSCM's Business Hive their infrastructure, data and applications were safely stored as part of CSCM's Cloud network, so the team was able to continue managing their systems remotely and the clients work effectively from home.
The initial priority for CSCM was to quickly get all their other clients in a position to adapt and continue working, by sourcing equipment and quickly embedding solutions for home working as well as dealing with issues as they arose. As a company, they were proud to be helping businesses function and operate as close to normality as possible during this unsettling time of change.
At the start of 2020, CSCM started to embark on a huge rebranding exercise, which also included the decision to acquire new premises that would give them the ability to grow the workforce further. For nearly 25 years CSCM has continually grown and expanded, over time they have moved around the Black Country, outgrowing their locations and with a customer base now spanning over 10 countries around the world, they felt the time had come to stop and really look at the Business, what they represent and revaluate where they wanted to be. Working with an external company, plans started to develop to create a brand new website, redesign and renovate new premises, redesign all logo's and create a fresh new identity for CSCM to mark their forthcoming 25th Anniversary.
This was never going to be an overnight process, as CSCM wanted to work together as a Business to really dig deep and use all their employees, customers and business insights to create an image that perfectly represented a technology company with innovative ideas and strong values. However, when this project kicked off, no one could have predicted a UK lockdown and the management had the tough decision on whether to put a hold on all plans, delay recruitment and cancel all building works at their new site.
The decision to continue was not an easy one and the months that followed brought quite a few hold-ups and problems, CSCM found themselves without a functioning workplace, as builders were unable to source materials for the renovation. Not willing to give up, the Project team at CSCM worked remotely with external third parties, again utilising technology to communicate and hold meetings to bring to life the vision of a new CSCM. In some instances, the project team broke down into small groups and reverted to old school techniques by utilising walls in their new building that were planned for demolition to carry out brown paper exercises, that brought to life new ideas, all the time in an empty shell of a building where social distancing was certainly not an issue.
So after many delays, nine months later, CSCM is excited to now be in a position to share their brand new website, completed building, branding and showcase the services they offer, which they do truly believe transform the way companies operate their business.
A long-running project that the whole company has been involved in regardless of where they were working is something Managing Director Jude Thompson is extremely proud of. "It is amazing what the team and other local businesses have pulled together to accomplish during such challenging times. However I was determined to work through this project and maintain as much normality as possible for my staff as I know how important it was to all of us, it was vital that we stayed connected and supported each other whether in the office or not. We have a fantastic fresh new logo and interestingly we used words and feedback from our own employees to create our new by-line 'For a connected world'. A connected team working better together, the world is more connected every day and so are we".
Submitted by Jenny from CSCM IT Solutions