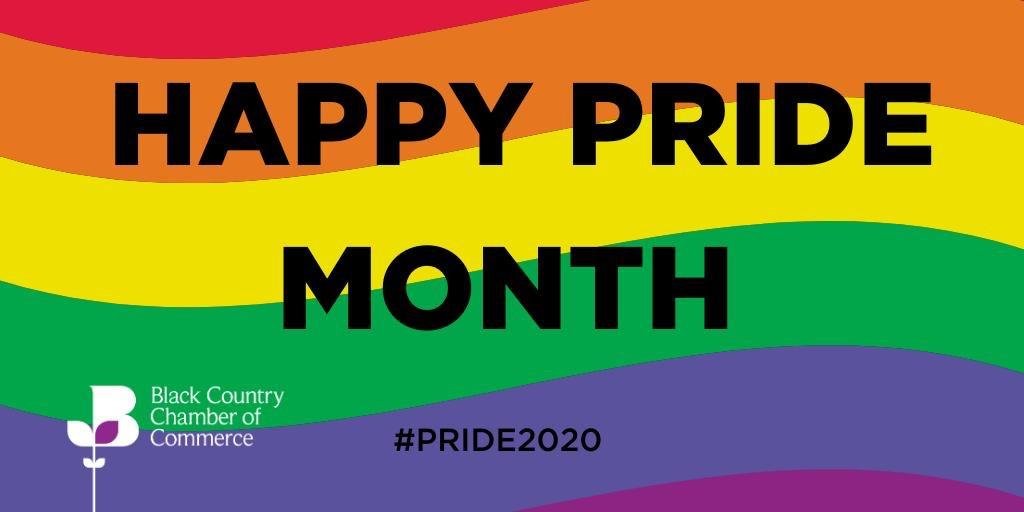 Why Pride Matters
02 Jun 2020
Published in: Blog
---
Why Pride should matter to business #PrideMonth2020
---
- "You'll never find a rainbow if you're looking down" ? - Charlie Chaplin
Since the outbreak of coronavirus pandemic our high streets, our homes and much of the country have been awash with rainbows representing support and love for the NHS. But if you had asked me six months ago, what the rainbow represents, I would have answered "that's obvious it's Pride of course!".
Around the world, June is internationally recognised as LGBT Pride month, a time when LGBT groups celebrate with events and parades to mark the contributions of LGBT people to national life and since its debut in San Francisco, 42 years ago, the rainbow flag, has become the symbol of LGBT rights and Pride itself.
While the United Kingdom is one of the most vibrant, diverse, and tolerant countries in the world it is important to ask, 'why does Pride matter?' and 'why should employers take inclusivity seriously?'. For LGBT people, Pride commemorates LGBT history, it celebrates accomplishments of LGBT people, it allows us to celebrate sexual and gender identities in public and most importantly it reminds us that we still have a long way to go.
Key findings from Stonewall's LGBT in Britain Work Report (2018) highlight that:
Almost one in five LGBT staff (18 per cent) have been the target of negative comments or conduct from work colleagues because they are LGBT.
One in eight trans people (12 per cent) have been physically attacked by customers or colleagues because of being trans.
One in ten black, Asian and minority ethnic (BAME) LGBT staff (10 per cent) have similarly been physically attacked because of their sexual orientation and/or gender identity, compared to just three per cent of white LGBT staff.
Almost one in five LGBT people (18 per cent) who were looking for work said they were discriminated against because of their sexual orientation and/or gender identity while trying to get a job.
One in eight black, BAME LGBT employees (12 per cent) have lost a job in the last year because of being LGBT, compared to four per cent of white LGBT staff. • Almost two in five bi people (38 per cent) are not out to anyone at work about their sexual orientation.
More than a third of LGBT staff (35 per cent) have hidden or disguised that they are LGBT at work because they were afraid of discrimination.
One in eight lesbian, gay, and bi people (12 per cent) would not feel confident reporting any homophobic or biphobic bullying to their employer.
One in five trans people (21 per cent) would not report transphobic bullying in the workplace.
Almost a third of non-binary people (31 per cent) and one in five trans people (18 per cent) do not feel able to wear work attire representing their gender expression.
However, Pride and what it represents should not be used as a token marketing gesture only employed in June to ramp up sales or to increase your presence online. Nor should it be that the rainbow flag and what it represents to LGBT people be forgotten.
For me, the flag can mean both pride in our NHS and pride in our sexuality and gender. Organisations should look to tackle the barriers to inclusion and diversity within their workforces and seek to have inclusive practices all year round.
The benefits to an LGBT inclusive workplace extend beyond that of making sure employees of all sexualities and gender expressions feel safe and valid. There is a plethora or research which has shown that LGBT inclusive workplaces benefit businesses too. Employers who create safe and inclusive workplaces see less stress and ill-health related absenteeism associated with LGBT staff who feel they need to hide their identity work or experience workplace discrimination.
A happy employee is a productive employee. Happy Pride Month to all those inclusive employers out there.
Written by Matthew Lowe, Policy and Lobbying Manager at Black Country Chamber of Commerce. To discuss how the Chamber campaigns and advocates for inclusive workplaces contact us at policy@blackcountrychamber.co.uk

For more information visit the below resources:
https://www.cipd.co.uk/knowledge/fundamentals/relations/diversity/building-inclusive-workplaces
https://www.stonewall.org.uk/best-practice-toolkits-and-resources
https://www.stonewall.org.uk/help-advice/discrimination/discrimination-work