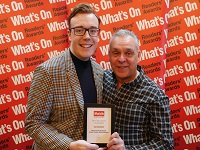 Wolverhampton Grand Theatre Celebrates Multiple Awards for Pantomime!
23 Mar 2018
Published in: Member News
---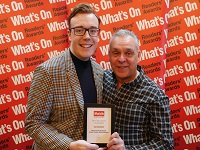 Wolverhampton Grand Theatre's 2017/18 pantomime Jack And The Beanstalk has won two awards at this year's What's On Readers' Awards, coming out on top in both the categories it was nominated in.
For the second year running, the Grand Theatre pantomime has won Best Pantomime In The Midlands and a new category for this year, Best Pantomime Dame In The Midlands was awarded to Ian Adams for his role as Dame Trot.
---
Ian will return for his third consecutive year as Dame this year in Sleeping Beauty alongside Doreen Tipton who also returns for a third season from Saturday 8th December 2018 - Sunday 13th January 2019.
Ian Adams said; "thank you to everyone who took the time out to vote for me. I always feel very lucky to do the job I do, I enjoy it so much and this really is the icing on the cake."
Adrian Jackson, Chief Executive and Artistic Director of the Grand Theatre, said: "I am delighted that our panto has received such an accolade for the second year running. Pantomime at the Grand Theatre has been a tradition since the year we opened almost 125 years ago and it is crucial that we continue to honour that year-on-year with a production of the highest quality. I look forward to building on the success of our award-winning pantomimes in the near future. With advance sales already ahead for Sleeping Beauty this year, we're excited for what promises to be another fantastic festive show."
At the What's On Readers' Awards, the Grand Theatre also won Best Arts/Theatre Venue in Wolverhampton and the Black Country.
With a star cast line up still to be announced for this year's pantomime, Wolverhampton Grand Theatre's 2018/19 production of Sleeping Beauty is guaranteed to have all the fun, laughter, magic and special effects that you've come to expect from a Grand Theatre pantomime with Qdos Entertainment, the world's biggest pantomime producer.
Tickets for Sleeping Beauty are now on sale. Tickets can be booked in person at the theatre, by calling 01902 429212 or online at www.grandtheatre.co.uk.

Comments
No comments have been submitted yet.