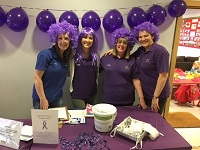 Would You 'Go Purple' to Support The Haven this Empurple Week?
21 Feb 2018
Published in: Member News
---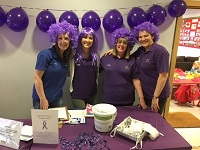 The 8th of March is International Women's Day, a celebration that is observed across the world each year and recognises the economic, financial and social achievements of women, past, present and future.
The Haven Wolverhampton are running a week long campaign around International Women's Day and are asking their supporters to get together with colleagues, friends and family and "Go Purple' to raise money for the women and children that we support.
---
Purple is the internationally recognised colour for campaigns that take a stand against domestic abuse and they would love to see the Black Country "go purple' to support women and children that are vulnerable to domestic abuse in our region.
Whether you're a Mary Berry and want to run a "purple' cake sale, or maybe you want to host a "wear purple to school or work day; any event big or small, will go such a long way in raising awareness and improving the lives of women and children affected by domestic abuse in Wolverhampton.
The Haven are also asking people to wear one of their purple ribbons for the week to raise awareness. You can request a ribbon by getting in touch with their team directly.
"'We are incredibly excited to celebrate Empurple Week this year, it's 100 years since some women gained the vote and as women we have come further than ever to reach equality but there is still so far to go. It is so important to raise awareness of the inequalities that women still face today. By going "purple' for Empurple Week you are helping us to give women and children that are vulnerable to domestic abuse a voice.'' says Hanifa Blakemore-Razaq, Fundraising Officer at the Haven.
In the UK, 1 in 4 women and 1 in 8 men will experience Domestic Abuse during the course of their lifetime. 2 women a week are killed by their partner as a direct result of domestic abuse. Help The Haven raise awareness and funds to ensure they can continue to provide vital services to vulnerable women and children in Wolverhampton.
To request a fundraising pack or find out more get in touch with The Haven's Fundraising team on give@havenrefuge.org.uk / 01902 904677.