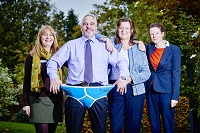 Wyre Forest Law Firm Backs Prostate Cancer UK Through Go Dad Run Donation
02 Jan 2018
Published in: Member News
---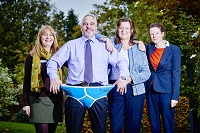 Wyre Forest law firm mfg Solicitors has recently donated £1,000 to Prostate Cancer UK to assist with the charity's ongoing research and awareness campaigns.
The donation follows the firm's backing of Worcestershire businessman Edward Kimpton in the Sanlam Go Dad Run - a 6k run for men and boys which took place around Worcester Racecourse.
The Kidderminster-based legal firm supported Mr Kimpton, a chartered wealth planner at Sanlam, who took part in the race for the third time alongside his sons.
---
Helen Gough, a senior associate at mfg Solicitors said: "Raising awareness of prostate cancer is a matter very close to my heart given that I lost my father 12 years ago to the disease.
"We were therefore delighted to support Edward and the charity with our donation this year which will go towards finding a cure and supporting organisations who help to care for those with the disease.
"It means a lot to us to go that extra mile. It's a tragedy that so many men die needlessly of the disease every year, both as a result of lack of awareness and the fact that simple tests are not done as standard.
Edward Kimpton added: "I am extremely grateful to Helen and the team at mfg Solicitors for not only supporting us, but for such a generous donation to a charity which does so much for so many. The firm has always been strong supporters of the event."
Mr Kimpton has now raised a total of £2,024.80 over the past three annual events.
Prostate cancer is the most common cancer in men. More than 10,000 men die every year from this male-only disease, and 300,000 men are living with prostate cancer in the UK.
Prostate Cancer UK works to get men in all areas of the country the early detection, effective diagnosis and better treatments that will beat this disease.