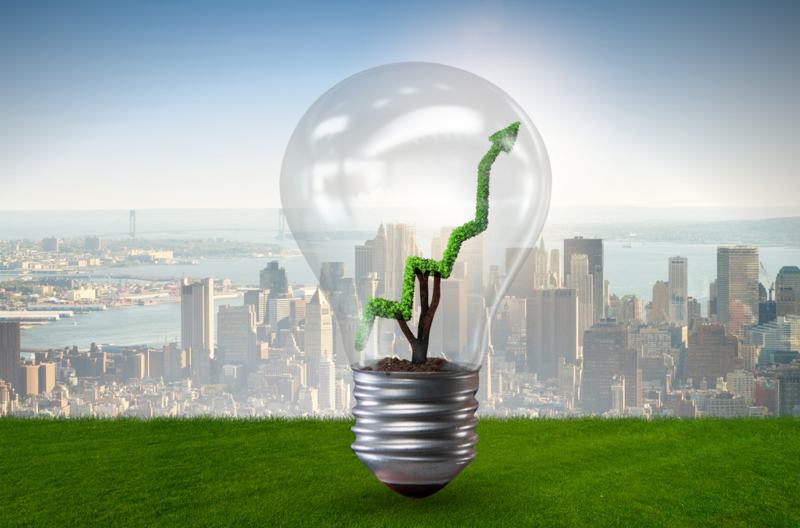 A Month in the World of Energy
01 Feb 2021
Published in: Member News
---
January 2021 has just ended, we're back in lockdown and the energy market is on the move once again!
---
When we entered lockdown 1.0 back in March 2020, nobody could have predicted the effect it would have on the energy market. Energy prices dropped, far lower than any expert could have foreseen and it became a great time for consumers to renew their energy contracts with the chance to lock out extremely competitive prices across multiple seasons on the forward curve, if they knew about the market position.
And it was this that made us think, whilst we in the industry are aware of the ever changing market and the opportunity it presents to the consumer, unless we reach out to make them aware, the customer has no idea when the perfect time to lock out their energy contract actually is.
With that in mind we decided to put together a monthly blog, 'A Month in the World of Energy' to help, not only our customers, but all consumers get to know what the market movements look like and what that means for them.
So, without further ado, we thought a good way to start would be to take a look back to April 2021, when the market was at a low.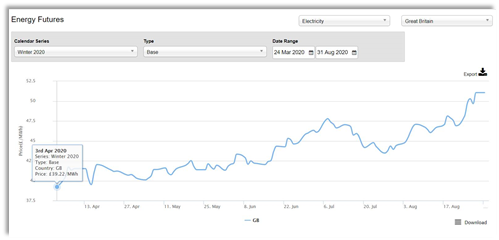 Graph A

Graph B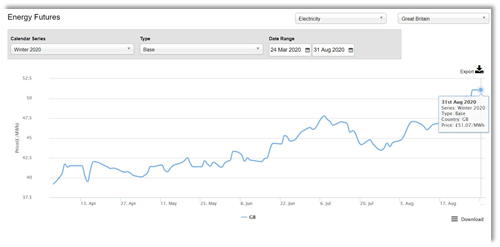 Graph A showcases the cost of energy on the 3rd April 2020, £39.22 p/mWh vs on graph B from the 31st August 2020, where the price is now £51.07 p/mWh.
This may seem either a little, or a lot to a consumer, depending on your energy usage so, to give it some context:
Imagine you are a manufacturer using 1million kWh of energy per annum, with roughly 60% of this consumed during the winter periods due to an increase in light and heating usage. If you had purchased your energy contract on the 3rd April you would have saved £7,110 per annum, compared to if you had purchased energy on the last day of August. That' s £7,110 more for the same energy that was available for purchase four months before.
This additional costing is based entirely on the energy alone which makes up around 40-50% of the total cost you pay to your energy supplier.
The other 50-60% is made up of none commodity charges which would also see an impact and increase over the same period, meaning the actual difference in cost would be much higher than £7,110.
If you don't use quite as much energy as our example manufacturer you may not see the price change as too much of an issue, however it's just one of the many reasons why it's advisable to start reviewing the market up to 12 months prior to your contract renewal date.
Now if we take the last month into account, on the 21st December 2020 the daily baseload price for power was £43.50 p/mWh, compared to today 21st January 2021, it currently sits at £60 p/mWh... that's quite a jump for one month, and it's exactly this activity that we want to showcase to all business energy customers.
We hope you found the first issue of A Month in the World of Energy, useful, insightful and valuable, and if you would like further details on just how the energy market is changing, reach out to the team at Experienced Energy Solutions and we would be happy to provide you with as much or as little information as you require.
We hope you all had a great January and keep an eye out for next months issue, coming to you in the first week of February!

Submitted by Natasha from Experienced Energy Solutions Limited