PROSPER MAGAZINE
The region's longest-established business publication, Prosper Magazine, is returning this summer to print with a fresh new look for the first time since January 2020.
Delivered to all members of the Black Country Chamber of Commerce and to key strategic contacts and locations around Dudley, Sandwell, Walsall and Wolverhampton, the new printed edition will be accompanied by an electronic version sent directly to the inboxes of thousands of readers across the region and beyond.
Click the image below to start reading now.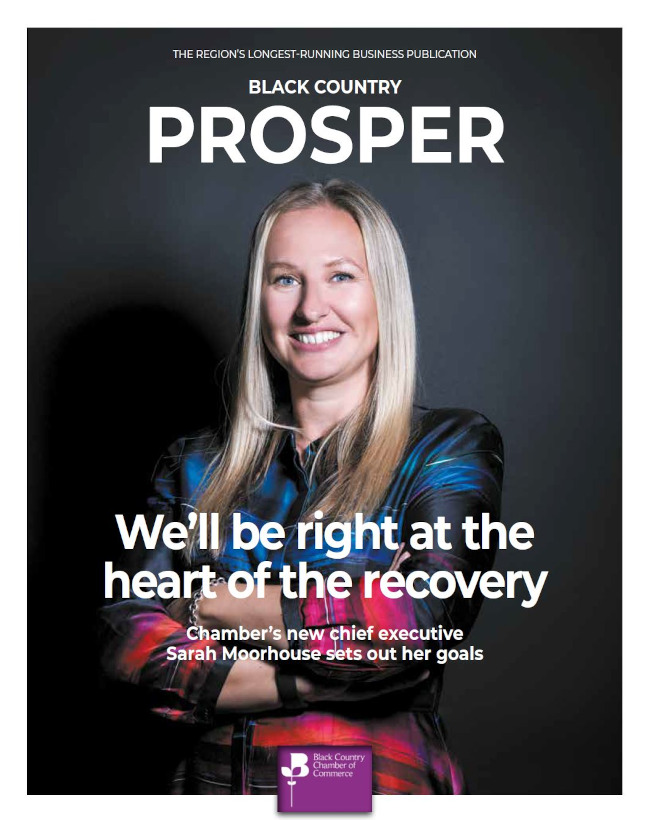 Don't Miss the Chance to Feature in New Prosper
The Black Country Chamber of Commerce has teamed up with Chamber Media Services, an experienced business-to-business publisher, to refresh Prosper Magazine at a time when all members are looking to reconnect with the wider business community, their clients, and suppliers.
Reaching influencers, decision-makers and senior leaders, Prosper has become a trusted source for news, analysis, insights and commentary on topics which matter to Black Country businesses.
There are number of advertising options available in each edition and members of the Black Country Chamber of Commerce can take advantage of exclusive discounts of up to 25%.
Advertising options
Read more about advertising rates and opportunities here.
To book an advert or discuss how Prosper can help your business, call Colin Regan on 01942 537 959 or send him an email.
For all other enquiries, please contact prosper@blackcountrychamber.co.uk