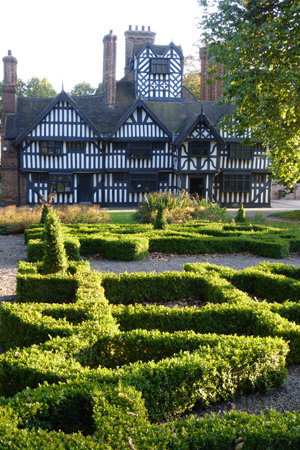 A summer in Sandwell: get to know the borough's heritage sites
24 May 2021
Published in: Member News
---
As lockdown eases, Sandwell's heritage sites are beginning to welcome visitors again. Here, the Think Sandwell team provides a round-up of what's on offer.
---
As lockdown eases, many of Sandwell's heritage sites are beginning to welcome visitors again. If you're into the Jacobeans or Victorians, houses or gardens, objects or industry, this is the perfect summer to get out there and explore what our borough has to offer.

Oak House Museum
This half-timbered 17th-century farmhouse in West Bromwich has strong links to the socially-climbing Turton family. As well as panelled rooms and fine furniture, there are beautiful grounds to stroll in, including a children's playground and 'talking' barrels. From 25 May to 20 June, the museum will be open on Wednesdays, Thursdays and Sundays from 10am to 1pm. Entry is free, but booking is strongly advised as numbers will be limited due to social distancing. Learn more about Oak House Museum.

Haden Hill House Museum
This late Victorian gentleman's residence in Cradley Heath sits next door to the Old Hall, a late 17th-century family home, and is surrounded by 55 acres of award-winning parkland. From 25 May to 20 June, the house and grounds will be open on Thursdays, Fridays and Sundays from 1pm to 4pm. Entry is free, and there's no need to book to visit the park, but you will need to book a timed ticket to visit the house. Learn more about Haden Hill House Museum.

Wednesbury Museum and Art Gallery
Key exhibits in this purpose-built museum include Victorian paintings, antique toys, an internationally important collection of Ruskin pottery and 'nostalgia rooms' full of everyday objects from the 1960s and 1970s. The museum is currently closed for building work, so check online before planning your visit. Learn more about Wednesbury Museum and Art Gallery.

Bromwich Hall
Murder and grave robbing both play a part in the story of this unique 13th-century manor house in West Bromwich. Bromwich Hall is one of the most important surviving medieval timber framed buildings in the Midlands. From 25 May to 20 June, this heritage attraction will be open on Tuesdays and Saturdays from 10am to 1pm. Entry is free, but will be by timed slots, so booking in advance is strongly advised. Learn more about Bromwich Hall.

Bishop Asbury Cottage
This humble 18th-century cottage in Great Barr was the boyhood home of Francis Asbury, the first American Methodist Bishop. As well as period furnishings and memorabilia from Asbury's fascinating life, there's information about the rise of Methodism in the Black Country. The cottage is currently available for group visits, but these must be booked and there is a charge. If you'd like to take a look round for free, keep an eye out for tours during Heritage Open Days in September. Learn more about Bishop Asbury Cottage.

Tipton Community Heritage Museum
This museum within Tipton Library is available to visitors during library opening hours. It features displays about Tipton's industrial and social history, along with information about the canals, which led to Tipton being called 'The Venice of the Midlands'. Tipton Library is currently closed, due to the coronavirus pandemic, but its team hopes to reopen it soon. Learn more about Tipton Community Heritage Museum.

Galton Valley Pumping Station
This restored pumping station on the Birmingham Main Line Canal in Smethwick gives an insight into some of the most important and historic civil engineering feats in the area, including the world famous Galton Bridge, and life and work on the canals. The site was closed in 2020 due to coronavirus, but is usually open to visitors on Saturdays throughout the summer, so check online for the latest information before planning your visit. Learn more about Galton Valley Pumping Station.

Tickets for the above museums are available here.

Many of the sites are old, so please check accessibility details before planning your visit.

Sandwell's museum service is also well known for its community events, school holiday activities, live music and theatre – all of which were of course affected by the coronavirus pandemic, but these will be slowly brought back throughout 2021 and 2022.

You can also browse photos of a huge range of items from Black Country museums collections online and find out more about Black Country history in general.

Submitted by Nicy from Sandwell Council - Think Sandwell