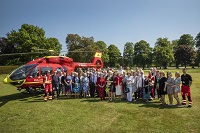 Air Ambulance Encourages Micro-Volunteering as Part of Volunteers Week 2018
31 May 2018
Published in: Member News
---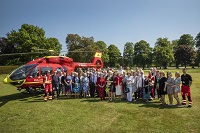 With a rise in a feeling of FOMO, a fear of missing out, Midlands Air Ambulance Charity is encouraging the local community to micro-volunteer for the organisation during Volunteers' Week 2018 (1st to 7th June).
Through Midlands Air Ambulance Charity, there are a number of ways to volunteer to suit the time a person has. There are a number of charity-led events throughout the year, such as the Bike4Life Ride Out and Festival and fun-filled Airbase Open Days, or those interested can get involved with helping out with local events, or even coming into the HQ and helping with admin.
---
It is a fantastic way to give back to community and support a local charity without taking up too much time. Through micro-volunteering, a person can offer their time flexibly, and there's less pressure to commit a set amount of time.
Alison Hill, Donor Support and Volunteer Manager for Midlands Air Ambulance Charity, said: "In these busy times, it's getting more and more difficult for people to dedicate many hours of their time to volunteering. We don't want anyone to miss out on the fantastic opportunities available when you volunteer for Midlands Air Ambulance Charity, so now is the best time to get involved and find out about how you can take part and contribute to saving lives.
"Even just one hour of your time can make a difference, and whatever it is you'd like to do to help out, we can always find something that can suit even the busiest of people!"
To find out more about micro-volunteering for Midlands Air Ambulance Charity and how to support the charity in other ways, email Alison via Alison.hill@midlandsairambulance.com, visit www.midlandsairambulance.com or call the office on 0800 840 2040.
Comments
No comments have been submitted yet.