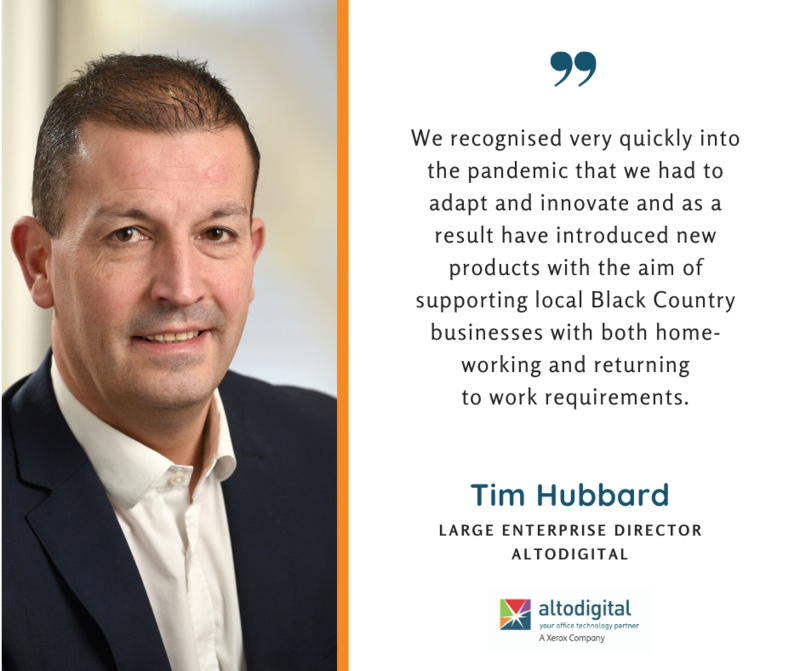 Altodigital's Large Enterprise Director Tim Hubbard shares how the Kingswinford based firm are supporting businesses to meet the demands of Covid-19.
19 Jun 2020
Published in: Member News
---
Altodigital are helping customers to meet the challenge of Covid-19
---
The global pandemic has been a tragedy. So many lives lost with families and communities changed forever. The impact on so many businesses across the Black Country and beyond has been profound and sadly some won't survive the biggest corporate challenge many of us have ever had to face.
Just before the Covid-19 lockdown intensified, Altodigital were acquired by Xerox and when we agreed our acquisition, none of us anticipated the backdrop against which the biggest moment in our history would be taking place.
Like many friends across our region we have utilised the furlough system and have introduced remote communication tools to keep in touch with staff and we have helped to keep the wheels of the Black Country economy turning.
We now want to support you during the coming months as we all bounce back from the effects of recent events.
In the face of Covid-19 we are continuing to deliver Managed Print Services to our own customers including Wolves, the Grand Theatre, MNA, Veolia and we are also focused on helping our NHS clients at this difficult time. If you or your businesses have any print requirements, our Kingswinford Head Office is operating close to capacity so please get in touch.
We recognised very quickly into the pandemic that we had to adapt and innovate and as a result have introduced new products with the aim of supporting local Black Country businesses with both home-working and returning to work requirements.
Our new Hand Sanitiser Kiosks are a real game changer for us as they help directly in the fight against Covid by stopping the spread of germs to keep your staff and customers safe.
We have also launched a range of Thermal Cameras which provide facial recognition, measure temperatures and have a fever alarm. These are perfect for public spaces and monitoring your staff or customers.
Finally, we have developed a Back-to-Work Catalogue including signage to allow safe working practices to be followed. All of these products will give your staff the confidence to return to work and help the economy across the Black Country to bounce back
If you are a Black Country Business who are looking to get people back into the workplace safely, then we can help you. If you want to know about any of the above products, or have any Managed Print requirements during these difficult times then simply call us on 07967 577072 or email adam.granger@altodigital.com to reach our Midlands team.
Submitted by Simon from Altodigital Networks Limited