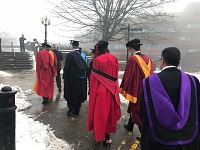 Annual Service Celebrates Justice
07 Mar 2018
Published in: The Chamber Patron Group
---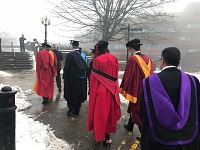 The University of Wolverhampton's 14th annual service to celebrate the Administration of Justice in the Black Country took place on Sunday 4th March 2018.
The High Sheriff of the West Midlands, Mr John Hudson, joined judges, magistrates, barristers and solicitors for the event at St Peter's Collegiate Church, Wolverhampton.
---
Court staff, police officers, prison and probation officers and staff from the University also took part in the procession.
Students from the University's law courses were also be involved in the service.
Dean of the Faculty of Social Sciences, Miceal Barden, said: "The service is organised by the University of Wolverhampton Law School and is an opportunity to honour and celebrate all of those who work hard to uphold justice in our communities. This annual event is a highlight in the University calendar and has become an important part of the civic life of the city.
"We are delighted to work closely with representatives of the justice system in the Black Country, which provides valuable work experience, placements and job opportunities for our students and graduates."
The procession began at the University's Wulfruna Building and was led by a mace bearer. It was followed by a reception at the University's Chancellor's Hall.
For more information about studying Law at the University of Wolverhampton, visit www.wlv.ac.uk/law.