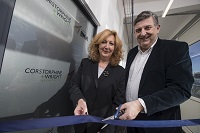 Architects Pledge Career Support for Stourbridge College Students
13 Feb 2018
Published in: Member News
---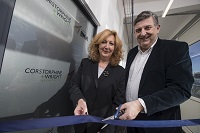 Stourbridge College have launched their new built environment facility by establishing a partnership with leading national architectural practice Corstorphine + Wright.
Over the last two years, Corstorphine + Wright have provided the college's 60 construction students with industry related lectures and work placements and in fact three of the college's students have been recruited by the company after completing work experience at their Hagley Road, Stourbridge offices. This is while continuing their studies and training.
---
"Teaming up with Corstorphine + Wright puts the college in a stronger position to show our learners the professional working environment they will be joining," said Gill Coldicott, Head of Stourbridge College.
"The industry hasn't stopped calling out for skilled workers, so it is exciting for us to have another avenue through which to inspire others and help meet this demand.
"The partnership will also help us to continue to develop the construction courses, apprenticeships and training programmes we offer."
This is a first-time collaboration for Corstorphine + Wright who have risen 16 places to 56 in the AJ100, a list of the country's top architectural firms.
Mike Turner, the company's Technical Director commented: "We already have training and recruitment initiatives in place for graduates and undergraduates and now we are going a step further. We hope to inform students about the design and technician roles available on residential, commercial and industrial projects being developed across the UK as well as the region.
"We can also share the career journeys of people working in our teams so that students can see the different pathways they may follow."
Stourbridge College's construction and built environment facilities include bricklaying, carpentry and electrical installation workshops. Plumbing courses are also delivered in partnership with the Worcester Bosch Group, with training provided for their apprentices alongside the courses offered to full time college students.
For further information visit www.bmet.ac.uk.