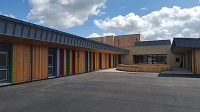 ASSA ABLOY UK Specification Keeps Up Track Record at Silverstone Primary School
24 May 2018
Published in: Member News
---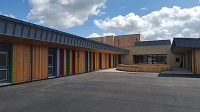 ASSA ABLOY UK Specification, a UK division of ASSA ABLOY, the global leader in door opening solutions, has assisted with the design and specification of doorsets and relevant hardware for the new Silverstone CE Primary School.
Working alongside Northamptonshire County Council, local firm pHp Architects and contractor Lakehouse Construction, the UK Specification team helped deliver the full-scale build of the two-form entry primary school.
Products specified included 92 ASSA ABLOY laminate faced timber doorsets, complete with redwood frames and dark grey PVC edges, making them easy to clean and to help conceal scuffs from daily use.
---
The colour contrast between the edge of the door and the door surface also helped to achieve an inclusive environment, in line with the latest legislation and guidelines such as Approved Document M of The Building Regulations 2000 and BS8300:2009+A1:2010.
The doorsets were complemented by a full ironmongery specification of ASSA 3228 ZP hinges, ASSA ABLOY DC200 Rack & Pinion Door Closers, Union Optimus 3 Locks, UNION J1000 door furniture and ASSA finger guards, which prevent pupils' fingers from being trapped in closing doors.
The specification also included ASSA's P600 cylinders for internal and external doors as well as external gates, providing the school with one masterkey system and permitting access to authorised personnel only.
Chris Wayman, Associate at pHp Architects commented: "ASSA ABLOY UK Specification not only supplied high quality and fit-for-purpose products, but they also provided a full consultancy service, which took into account factors such as pupil comfort, flow of traffic around the school, as well as the need for staff to access certain areas of the building efficiently and securely. We are delighted with the finished result."
James Bloomfield, Headteacher at Silverstone CE Primary School said: "Working with the UK Specification team was straightforward from start to finish. The doors and ironmongery specified really enhance what is an exceptional building."
David Shields, National Specification Manager at ASSA ABLOY UK Specification, added: "We have worked on a number of education projects and pride ourselves on tailoring the solutions we provide from our extensive experience in the sector.
"The challenge in all schools is to prioritise safety and minimise the risk of injury, while providing a comfortable learning and teaching environment for both pupils and staff. We believe we have not only achieved this, but also exceeded expectations with the solutions we helped design and specify via our BIM capabilities and personable one-to-one service."
To see the Silverstone Primary School project on their website, please visit https://bit.ly/2IMPdaL. For more information on ASSA ABLOY UK Specification, please visit www.assaabloy.co.uk/ukspecification.