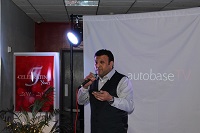 Autobase Citroen Celebrate 5 Years in Business
15 May 2018
Published in: Black Country Chamber of Commerce News
---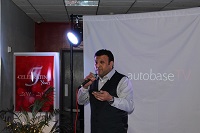 It was cause for celebration in 2017 at Autobase Citroen, as local football legend Steve Bull and comic Dominic Woodward, as well as Bek Hassan, Managing Director at Citroen & DS, helped them to celebrate their 5th anniversary in business.
Previously a Hyundai dealership, the Allibhai Group acquired the business in 2011, when they became a new franchise partner with Citroen. Following this acquisition, the dealership was renovated to fulfil the high standards Citroen demands.
---
Over the course of the last 5 years, the business has won many awards, including the Citroen Excellence Award for new dealer, New Business of the Year at the BCABA Awards, and Business of the Year at the Birmingham Signature Awards, as well as being finalists at the national Motor Trade Awards that recognises quality performance across all motor manufacturers. In addition, they have received the Sales Team of the Year and Service Team of the Year Awards at the Citroen Excellence Awards.
Furthermore, Autobase Citroen's performance has been such that turnover has increased almost 10-fold and they continue to exceed all their targets year-on-year.
Despite this success, Ali and the team are not resting on any past glories, and he commented: "We have achieved our 5-year objective and are now looking to grow. We have great plans for the future, which includes a new dealership in the next 2-3 years and we are also looking to invest in our service department, adding a commercial fleet business centre program, whilst expanding into the used car market."
As an individual, Ali is a prominent business man in the Black Country and takes a real interest in the local community. He is on the Walsall Economic board and joined the Black Country Chamber of Commerce 5 years ago, where he now serves on the Board of Directors.
Black Country Chamber of Commerce wants to support businesses to grow and succeed, and Member of the Week is an initiative to celebrate the great work that our members are doing and to highlight the success stories in the local area.
If you would like more information about Black Country Chamber of Commerce membership, please contact us on 0330 024 0820 or visit www.blackcountrychamber.co.uk. For more information about Autobase Citroen please visit www.autobasegb.com.
Comments
No comments have been submitted yet.