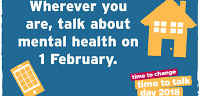 Back Country Chamber Supports Time To Talk Day 2018
25 Jan 2018
Published in: Black Country Chamber of Commerce News
---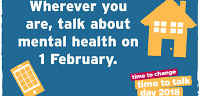 In conjunction with Dudley Mind, the Black Country Chamber of Commerce is proud to be supporting Time To Talk Day 2018, which is taking place on Thursday 1st February 2018.
Corin Crane, Chief Executive of the Black Country Chamber of Commerce, commented: "The more we talk about mental health, the better it is for all of us. Too many people with mental health problems are made to feel isolated, worthless and ashamed, and at work, fearful of discrimination or prejudice too. Time To Talk Day is a chance for all of us to be more open about mental health - to talk, to listen, to change lives. So, we would like to encourage businesses to have their conversation about mental health this Time to Talk Day."
---
Here are some simple ideas for activities you could do at work:
Set up a stand in reception with information about mental health where colleagues can come and find out about mental health and maybe give their ideas on how to improve mental health where you work;

Organise a tea and chat event with your team or colleagues, and perhapes mention there will be cake to encourage them to take part;

If the weather's okay, suggest a "walk and talk' with your colleagues - stretch those legs round your nearest park or town centre!
In addition, Time to Change have put together a communications pack for employers and some free resources you can download to promote Time to Talk Day 2018 where you work.
We're encouraging as many employers as possible to take part and start the conversation about mental health, so let us know if you decide to do something and send your pictures to us: Twitter (@DudleyMind and @BCCCmembers) and remember to use the hashtags: #mentalhealth #timetochange #TimetoTalk