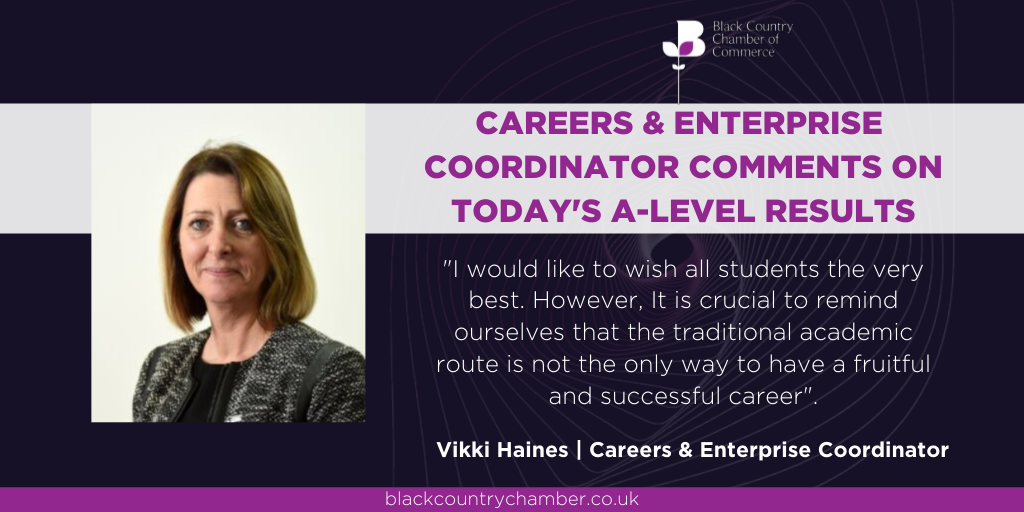 There's more than one path to success
15 Aug 2019
Published in: Black Country Chamber of Commerce News
---
Black Country Chamber Careers and Enterprise Co-ordinator and Head of Policy at British Chambers of Commerce comment on today's A level results.
---
Commenting on today's A level results, Vikki Haines, Careers and Enterprise Co-ordinator at Black Chambers of Commerce, said:
"Firstly I would like to wish all students in the Black Country, West Midlands and the UK all the very best as they receive their A Level results. However, it is also crucial to remind ourselves that the traditional academic route is not the only way to have a fruitful and successful career.
"We know that recruitment issues are a constant headache for our members. Businesses, schools, colleges and universities work hard collaboratively to offer appropriate technical education for students in our area and the practical skills learnt by students are essential if we are to address these long-term skills gaps and shortages.
"We so often hear from our members that 'softer' skills are an essential part of recruiting the right candidate. From presentation skills and confident communication, to time management and punctuality however,It there are more factors at play as young people embark on their career journey".

Jane Gratton, Head of People Policy at the British Chambers of Commerce, said:
"Congratulations to all the students around the UK who received their A level results.
"As students contemplate their next steps, it's important to remember there's more than one path to success in the world of work. While many school-leavers and their families consider a place in university as the traditional route to a rewarding career, they could be overlooking other exciting, technical avenues for development and progression.
"The new, high quality Apprenticeships allow young people to earn, learn and progress quickly in their chosen career. At a time when businesses are reporting critical levels of recruitment difficulties, employers are keen to help people develop practical experience, skills and qualifications on the job.
"Businesses are working with schools and colleges to help ensure young people are aware of the range of technical and vocational options available to them. The government must work with employers to maximise opportunities for young people to use apprenticeships to kickstart their careers."