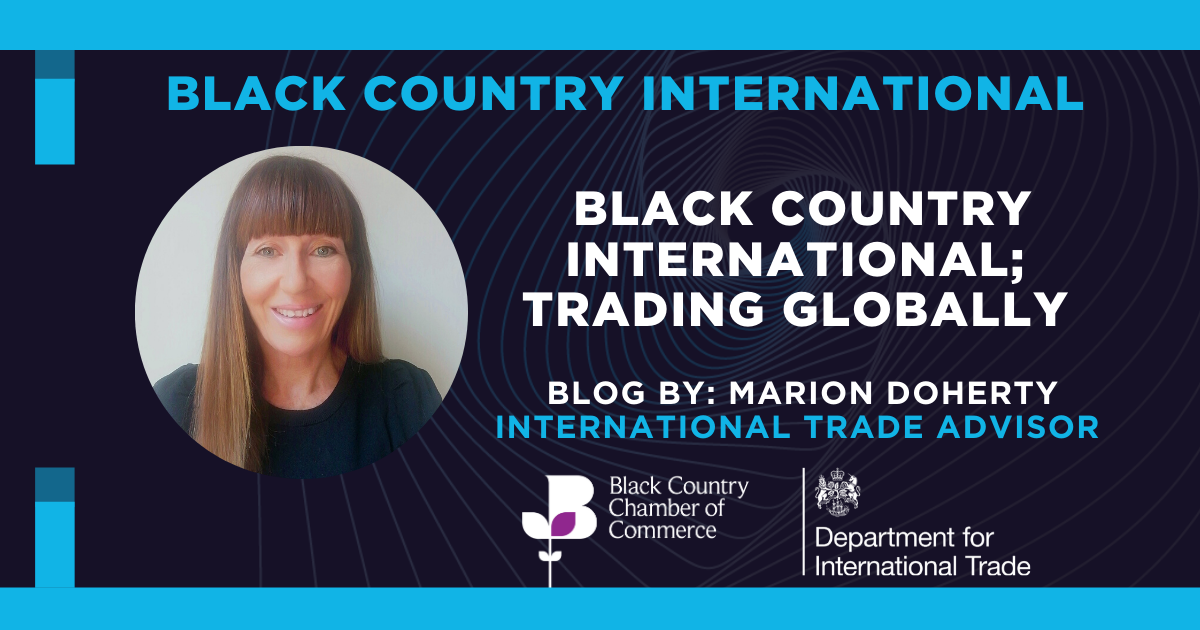 Black Country International; Trading Globally
24 Jun 2020
Published in: Blog
---
Business survival now is paramount and working with expert international trade advisors may just open up a whole new world.
---
We are all experiencing unprecedented upheavals due to the Covid-19 pandemic.
And it is something currently being experienced by markets across the world.
Historically, a recession in a country leaves companies vulnerable and at risk, as other countries across the world thrive and create a trading gap that becomes hard to close.
The fact that your competitors, no matter where they are located, are facing the same challenges, makes the race to overcome these uncertain times, a much more level playing field.
The question is what can you do to ensure that you survive this period and create a stable foundation for the future?
The International Trade Team based in the Black Country Chamber have continued to work through the recent period of uncertainty, where companies have been unable to perform, employees are furloughed and there is an air of panic about the future of our health and the health of the region's businesses.
Initially, the team were focused on raising awareness of the local financial support available; CiBLs, Grants, Furlough Schemes etc. but it has been evident from the start of the crisis that Black Country companies were not going to sit back and watch everything unfold.
In the first weeks, companies considered their options, deciding what needed doing to ensure that when the pandemic passed or became manageable, the business was in a position to continue to be viable and in a position to recover.
A number of companies recognised that they needed to diversify, a testament to the resilient nature of the region's manufacturers.
Black Country companies began exploring manufacturing PPE to supply to the NHS, they offered these products at no profit, to help combat the strain that this country faced.
The team in the Black Country have worked to help these manufacturers achieve the recommended certification requirements for all PPE products, regularly engaging with the supply chain and working throughout to ensure that all manufactured products hit the specified supply chain guidance.
As the weeks have moved on, some of these companies have continued to manufacture PPE products and have developed products in collaboration with their core business.
There are many great stories; the unsung heroes whose first response was "how can we help our country", has shown the Black Country as a region that should be proud of its people, products, and places.
During the same time, many companies have considered and explored through internal audits if they can continue with their current supply chain and routes to market.
The DIT team have continued their work with companies, helping to ensure that their current client base, outside of the UK, is still live, and they continue to work hand in hand with overseas colleagues, based in the Embassies and High Commissions across the world, to reach out to companies.
Reassuring overseas companies that the UK has remained open for business and that manufacturers continue to operate has been paramount to the overseas trade message from the region.
The Black Country team continue to support companies looking to identify opportunities outside of their current markets. Helping them find their route into the various countries and engage with Agents and/or Distributors or work to find the end-users for goods on their behalf.
Working to a new kind of normal is paramount to success now.
Many companies have had their plans to exhibit or visit international exhibitions cancelled, so raising the profile of a company overseas is key to selling internationally.
Initialising virtual meetings, meet the buyer exhibitions and international trade missions with colleagues and potential clients the other side of the world, is part of everyday life now.
The team provides a complete Digital Advisory service to companies, where an assessment of their current website, search optimisation and content is carried out with recommendations for improvements offered.
The DIT team also offers a multitude of online training courses and webinars specific to growing a business internationally, completely free of charge, they are hosted by sector and country-specific experts from the Department for International Trade.
There are many other ways that team based in the Black Country are supporting local companies and every company has its different needs.
Survival now is paramount and working with expert international trade advisors may just open up a whole new world.
This blog was written by Marion Doherty, International Trade Advisor at Black Country Chamber of Commerce.
Access our Service
If you would like to find out how the Black Country International Trade team can help your business expand overseas, then please get in touch with me via email: Marion.Doherty@mobile.trade.gov.uk or telephone: 0330 024 0820.
Alternatively, visit our website to find out more: https://www.blackcountrychamber.co.uk/international-trade/
Stay updated with the latest International Trade and Export news, events and opportunities by registering to our monthly newsletter here.
About Black Country International

At the Black Country Chamber of Commerce, we are committed to helping our members and businesses around the region with the smooth transition of goods and services across international borders.
Our Black Country International services can help you with export documentation, train and develop your teams and keep up to date with trends and topics which impact how you export and import.
Whether you're new to trading internationally or an experienced exporter, we can help you develop a strategy that's right for you and help the process of doing business easier.