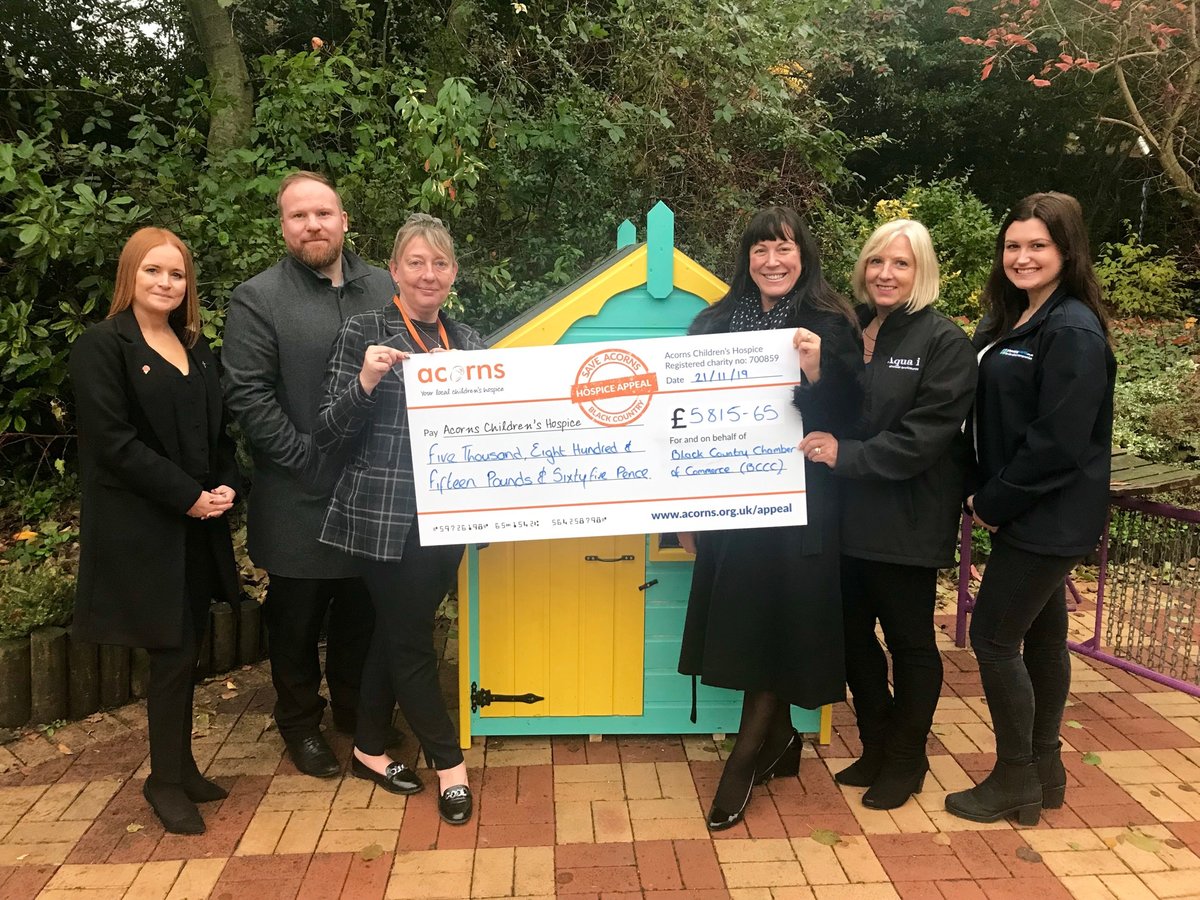 Chamber Champions Black Country Acorns Hospice Appeal
22 Nov 2019
Published in: Black Country Chamber of Commerce News
---
Chamber Champions Black Country Acorns Hospice Appeal
---
Chamber Champions Black Country Acorns Hospice Appeal
Black Country Chamber President, Julie Cunningham, along with Nella Share and Robin Tong from MET Recruitment, and Ruth Serrell and Emma Templeton from Plumbing World, handed over a cheque this week for almost £6000 towards the Save Acorns Black Country Children's Hospice Appeal.
The money, raised at the recent Black Country Chamber Awards, is the culmination of donations from guests on the evening and the amazing generosity of Chamber members, MET Recruitment, charity sponsor on the evening who donated £1000, and Plumbing World, who generously matched the amount raised on the evening.
Julie Cunningham, who steps down as Chamber President this week, said, "As soon as I heard about the appeal to save Acorns in Walsall, I knew we had to help, our recent business awards gave us a great opportunity to ask Black Country businesses to dig deep and help this amazing hospice."
Urgent funds are needed to help save the Walsall based hospice, which provides a lifeline for local life limited and life threatened children and their families.
Nella Share from MET Recruitment said, "We have always been a small business with a big heart, charity and giving back to the local community has always been at the centre of everything we do and it's so important to us to fulfil our corporate and social responsibilities by working with local charities that really need our help.
"When the opportunity arose to become the charity sponsor for the awards it felt like the right sponsorship for us as it's so closely aligned with our ethos.
"Learning that Acorns Children's Hospice was the chosen charity for the event was amazing for us, we couldn't have wished to support a better more worthy local cause."
Ruth Serrell, a director of Rowley Regis based Plumbing World said, "We chose to match the amount raised on the evening as we feel it is an incredibly good cause. I have worked in the hospice sector and they rely so heavily on the goodwill of the community and their fundraising initiatives."
The Save Acorns Black Country Hospice Appeal was launched by Acorns in July as the proposed closure of its hospice in Walsall was put on hold following pledges of additional NHS support, that should ensure the hospice is adequately funded from 2023/24 onwards.
The Appeal sets out to raise £2million over the next two years. Since its launch more than £450,000 has been raised.
Vicki Rowles, Head of Fundraising at Acorns, said: "What a fantastic amount! Thank you to everyone who donated in support of Acorns and our Black Country Hospice Appeal. This wonderful sum will help us get another step closer to our £2million fundraising target as we continue the fight to safeguard the longer-term future of Acorns hospice in the Black Country. Every penny counts and thanks to generous donations like this, we're hopeful that we will reach our goal."
For more information and to donate to the Save Acorns Black Country Hospice Appeal, please visit www.acorns.org.uk/appeal
-ENDS-
Image: L to R: Nella Share and Robin Tong from MET Recruitment, Vicki Rowles from Acorns, Julie Cunningham, Chamber President, Ruth Serrell and Emma Templeton from Plumbing World.