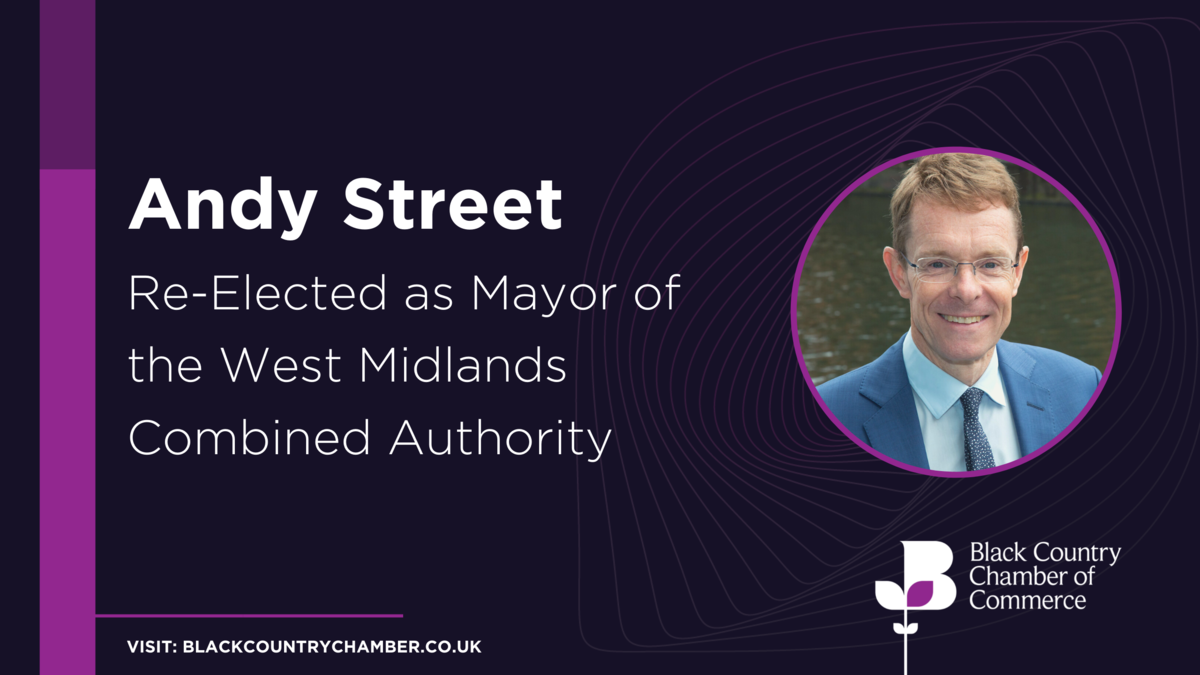 Chamber Congratulates West Midlands Mayor
07 May 2021
Published in: Black Country Chamber of Commerce News
---
Chamber Congratulates West Midlands Mayor
---
On behalf of our members, the Black Country Chamber of Commerce sends congratulations to Andy Street on his re-election as Mayor of the West Midlands Combined Authority.

In our recent manifesto entitled 'Rebounding for Business', we joined fellow Chambers across the region in calling for the Mayor's office to lead the region from pandemic survival to economic revival, make the West Midlands the most business-friendly place in the UK, develop a transport network fit for the 21st century and help businesses adapt to a post-Brexit landscape.
With the role of the Mayor instrumental in delivering devolution which positively impacts those living and working in the region and supporting the economic wellbeing of the Black Country's 1.1m citizens, we look forward to continuing to work with Mayor Street as he begins his second term in office.
Ahead of the elections, the longest established business magazine in the region, the Chamber's Prosper magazine, interviewed Mayor Street who said: "Before COVID struck, the West Midlands had begun to reclaim its place as an economically successful region, after decades of stagnation. As we come out of the pandemic, there is much to do to ensure we don't throw away those years of progress.
"To win investment, you must build a business case and show how you will deliver it. Now, however, sectors like retail, hospitality and manufacturing have seen thousands of workers laid off or furloughed. We must act quickly to get back on track post COVID. That's why my first priority will be to create more than 100,000 new good quality local jobs and training opportunities for local people.
"That means winning every possible contract for local businesses from major regional projects like HS2 and the Commonwealth Games. It also means securing an electric battery Gigafactory for our region, bringing 4,000 new jobs and protecting thousands more in the automotive industry and supply chain. I want our region to become the national leader in construction, engineering, life sciences, technology, 5G and other growing industries."
Corin Crane, Black Country Chamber CEO said: "Over the last four years, Mayor Street has been a champion for businesses across our four areas and has helped to unlock funding and begin the process of improving our public transit network. This has all taken place against a backdrop which has been one of the most challenging for our members with Brexit and the pandemic radically altering how business is done.
"The region still has a number of challenges to overcome in the future with longstanding issues which address skills gaps, inequalities and ensure that we primed and ready to maximise the opportunities of any recovery. We look forward to resuming our work with Mayor Street and making the Black Country a great place for business."