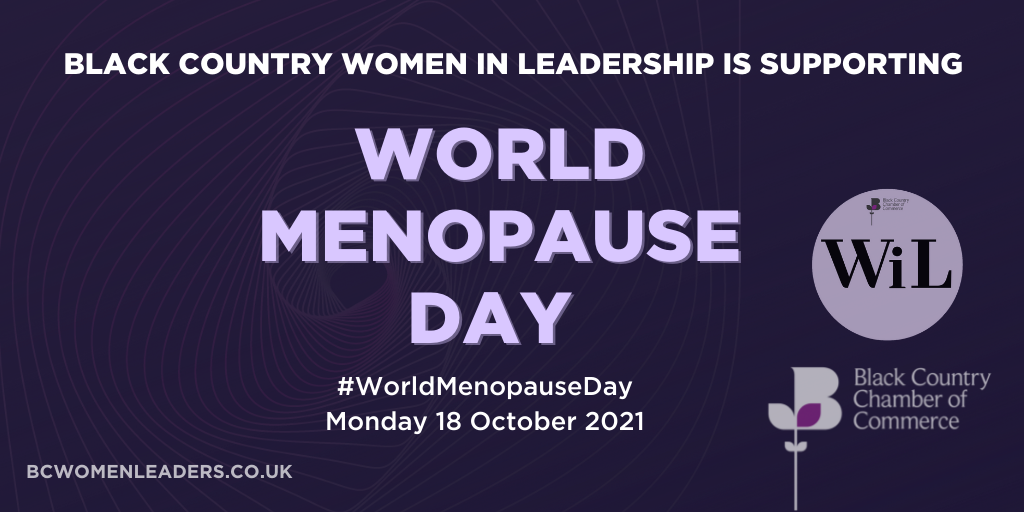 Chamber Marks World Menopause Day
17 Oct 2021
Published in: Black Country Chamber of Commerce News
---
October is Menopause Awareness Month and today, 18th October, is the day we mark World Menopause Day, a global awareness day that takes place each year.
---
As part of this month's Black Country Business Festival, the Black Country Chamber's, Women in Leadership Group, invited leading experts along to their online webinar event last week, 'Menopause in the Workplace', to discuss how some leading employers are already taking action to support the biggest growing demographic in the workforce today.

Hosted by Black Country Chamber CEO, Corin Crane, he was joined by Chair of the Women and Equalities Committee, The Rt Hon Caroline Nokes MP, leading menopause in the workplace expert, Deborah Garlick, Associate Director of Employment & HR Law at Thursfields Solicitors, Lisa Kemp, and menopause medical expert, Dr Nina Wilson, GP.
---
---
As the largest growing demographic in the workplace, representing 50% of the workforce, 13 million women in the UK are either peri or post-menopausal, suffering symptoms that can last for many years.

Sarah Thompson, Press and PR for the Black Country Chamber said: "As an ageing population, more women of menopause age are in work than ever before, sadly far too many struggle through the menopause or even give up work and career ambitions with knock-on effects on workplace productivity, the gender pay gap and the gender pension gap.
"There needs to be greater education in this area for both men and women and more awareness and support within the workforce. "Menopause isn't something just women need to know about, everyone will experience it at some point – some first-hand – others through relationships, whether that's with a partner, family member, friend, colleague or employee."
Meanwhile to mark World Menopause Day, Chamber CEO Corin Crane signed the 'Menopause Workplace Pledge'.
Launched by Wellbeing of Woman, and supported by The Countess of Wessex, the Pledge helps employers, and employees, recognise that the menopause can be an issue in the workplace, to highlight that woman may need support and to encourage everyone to talk openly, positively and respectfully about the subject.
Sign the Menopause Workplace Pledge - Wellbeing of Women
ENDS