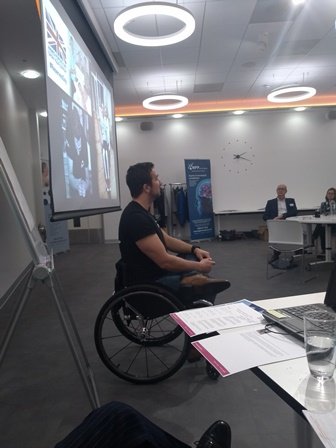 Clarke Willmott Hosts 'Psychology of Rehabilitation' Conference
24 May 2019
Published in: Member News
---
Experts coming together for special rehabilitation conference organised by Clarke Willmott
---
Expert speakers working in the area of the rehabilitation after serious injury recently came together in Birmingham for a special conference organised by law firm Clarke Willmott LLP.
The Psychology of Rehabilitation event provided delegates from all over the UK with an insight into developing their practices in the rehabilitation of brain injury, spinal cord injury and multiple orthopaedic injuries.
Chris Thorne, head of personal injury and medical negligence at Clarke Willmott, said: "The feedback we have received from the delegates has been so positive.
"We are delighted to have put on an event with such expert speakers who shared their knowledge and experience. Hopefully people have gone away with more tools in their bag to help them provide cutting-edge rehabilitation for people with serious injuries."
The key note address of the day came from Darren Edwards, founder of the Strength Through Adversity charity, who charted his journey from spinal cord injury through to rehabilitation.
"Darren's talk was truly inspiring", added Chris. "He demonstrates what can be achieved when a motivated individual has the opportunity to work with expert and specialist rehabilitation providers."
The conference, held at Birmingham's Millennium Point, heard from Dr Tim Hull, a neuropsychologist with the NPP Neuro Group, on best understanding the particular challenges that face people after brain injury.
Neuro-physiotherapist, James Benson explained how healthy competition between patients can be a powerful tool in maximising physical rehabilitation.
And Rebecca Hey of the Rehabilitation Partnership and Bev Palmer of Bush & Company shared their expertise on overcoming obstacles to rehabilitation through a multi-disciplinary team approach.
Clarke Willmott's own serious injury partner Philip Edwards spoke about how lawyers can also be part of the rehabilitation team, and that interacting with their clients should go beyond securing reasonable financial compensation – putting rehabilitation 'front and centre'.
The event, sponsored by financial advisors Frenkel Topping, concluded with specialist rehabilitation dietitian Sheri Taylor making a case for dietitians being part of the rehab team to help in maximising outcomes.
Clarke Willmott LLP is a national law firm with seven offices across the country including in Edmund Street in Birmingham. For more information visit: www.clarkewillmott.com.
Submitted by Karen from Clarke Willmott LLP