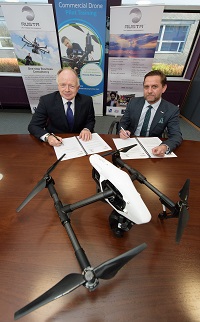 Drone Course Partnership Takes Off with Contract Signing
21 Feb 2018
Published in: The Chamber Patron Group
---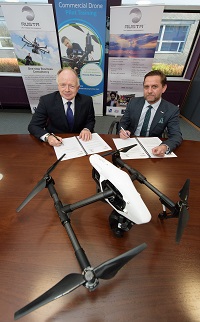 The University of Wolverhampton has signed a partnership contract to deliver drone pilot courses over the next two years.
The Remote Pilot Certificate SUAS (RPCS) course, which is Civil Aviation Authority (CAA) approved, leads to Permission for Commercial Operations status - providing commercial drone pilots with the skills and qualification to operate safely and legally in UK airspace.
The course has been delivered for the past year on an informal partnership basis with partner, RUSTA UAV Training Professionals. Members from City of Wolverhampton Council's Schools Technology Support Centre have benefited from training as well as companies from the agriculture sector.
---
Marc Fleetham, Director of Business Solutions at the University, said: "The drone pilot training courses that we've offered over 40 companies over the past year have proven to be so successful that we have strengthened our informal partnership with RUSTA to create a more formal, contractual arrangement.
"Drone footage provides businesses with high quality aerial and ground based video and images in order for companies to improve their business capability. As more and more businesses look for visual solutions to improve their services - especially those involved in broadcast, photography, construction, surveying, agritech and the Emergency Services, having access to CAA approved drone pilot training on their doorstep is an added bonus."
Sion Roberts, Director at RUSTA UAV Training Professionals, said: "Drone technology is really taking off because it has the capability of reaching the most remote areas with little to no manpower needed which is why demand for this particular course is on the increase."
"The courses we have delivered to date have been very well received by businesses in the local area - we've even had interest from as far away as Bristol - which is why this two year contract to jointly deliver 24 more courses over the next two years is a real milestone for ourselves and the University."
Richard Sparks, a Surveyor at Advantage Geomatics based in Shrewsbury, heard about the drone course through the Shropshire Chamber of Commerce and was impressed that it was run by ex-military aviation personnel.
He said: "I was looking for a course that offered the highest possible standards because it's important to demonstrate this to clients. The potential that drones offer in surveying is only going to improve as technology develops better cameras at a more affordable cost. Being qualified to operate a Unmanned Aerial Vehicle (UAV) will mean that I no longer have to employ external services, meaning savings for the company and for my clients."
The two and a half day course includes a theoretical overview of air law, principles of flight and insights into meteorology as well as covering emergency procedures. The University currently has three different types of Unmanned Aerial Systems (UAV) suitable for both interior and exterior usage, complete with high definition cameras designed to capture video and still images, which are used for training.
The course is delivered at the University's Science Park, Wolverhampton, Business Solutions Centre, Telford Innovation Campus, and Business Solutions Centre, Hereford. The course price is £995 +VAT and includes refreshments. For more information contact: A.Nicholas2@wlv.ac.uk.