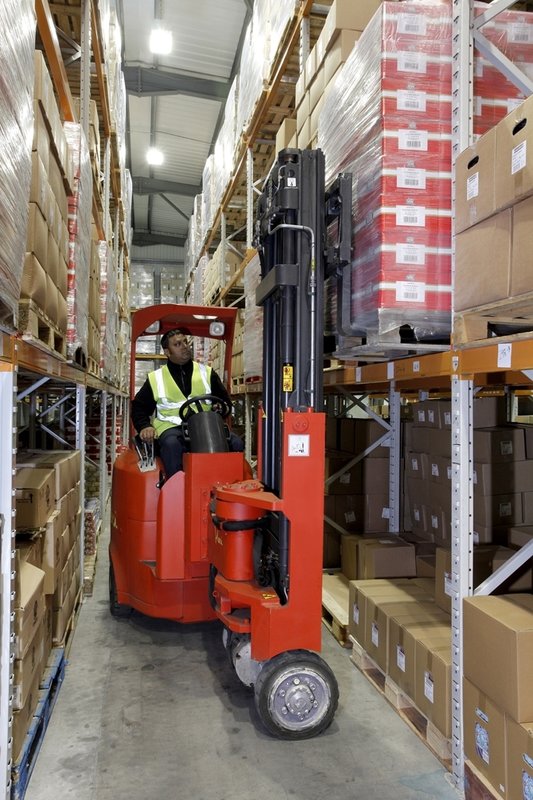 Easy to drive, digital control Flexi ACiON VNA truck leads the market
06 Sep 2019
Published in: Blog
---
Narrow Aisle Ltd has announced the introduction of new digital electric motor technology across its Flexi range of battery powered VNA warehouse reach trucks.
---
Narrow Aisle Ltd has announced the introduction of new digital electric motor technology across its Flexi range of battery powered VNA warehouse reach trucks.
With all drive, hydraulic and power-steering functions controlled digitally, the trucks in the Flexi ACiON battery power collection are described as a 'tour de force' in articulated lift truck technology.
"The development of digital multiplex control systems for our battery powered trucks' key functions delivers a more integrated performance, and results in greater reliability and higher productivity combined with significantly reduced operating and maintenance costs," says Narrow Aisle Ltd.'s managing director, John Maguire.
Full digital control means that all models are ultra energy efficient: regenerative energy produced every time the truck's mast is raised or lowered, as well as during forward and reverse travel and by movement of the steering wheel, feeds back to the battery to maximise the time the truck can perform for between battery changes or charges.
In addition, noise levels are significantly reduced and steering and mast control operations – whether using the lift/lower or sideshift functions – are carried out with optimum precision at all times.
But it is not just 'under the bonnet' where enhancements have been made: when developing the new Flexi ACiON electric range, Narrow Aisle's design team sought to produce the ultimate 'easy to drive' driver-friendly articulated reach truck on the market.
All aspects of operator visibility have been improved. For example, the trucks' HiVis overhead guard has been redesigned and strengthened and its design reconfigured to ensure perfect upward visibility of both the forks and the load. The guard also features a soft grey finish that is proven by optometrists to be easy 'on the eye' to further aid the operator's through vision.
Clear forward visibility is ensured by the use of specifically designed three- and four-stage lift masts which feature four lift cylinder technology that not only delivers full fork vision to make pallet entry easy driving forward but also provides class-leading lateral stability at all lift heights.
All models are fitted with fully adjustable premium Grammer seats – which, combined with the trucks' adjustable steering column, reduce operator fatigue during even the longest shifts.
Models in Narrow Aisle's Flexi ACiON range can operate safely and efficiently in aisles measuring from just 1.6 metres wide and can lift loads weighing up to 2.5 kg to heights of over 14 metres.
John Maguire says: "Sales of LP Gas-powered warehouse-based trucks are declining due to concerns over running costs and emissions and lift truck users across all industry sectors are increasingly seeking materials handling equipment that can demonstrate energy efficiency. For instance, our new digital ACiON range consumes up to 16% less battery energy on a standard work cycle. It has the potential to extend operational availability and significantly increase pallet load movements per shift."
"Operator diagnostics to aid security and fewer and simpler preventative maintenance visits per year will increase uptime and reduce maintenance costs across the range. Simple, easy to use diagnostics and a low-cost handheld service module allow engineers to rapidly identify any potential fault before it becomes a real problem."
"The electric drive technology at the heart of our Flexi ACiON range builds on the design strengths that have established the Flexi as the world's best-selling articulated forklift truck for nearly 30 years. But, we believe, we have taken the Flexi range to a new level of performance and efficiency that is unsurpassed in our sector."
Submitted by Luke from Flexi Narrow Aisle Ltd
Comments
No comments have been submitted yet.