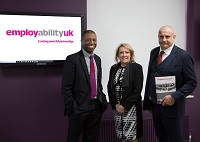 EmployabilityUK Announce Paul Cadman as the Charity's First Patron
19 Feb 2018
Published in: Member News
---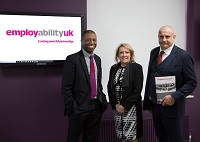 EmployabilityUK was founded in 2014 by Diane Vernon (CEO) and Desna McAll and aims to facilitate employer engagement to enhance the aspirations, opportunities and career prospects of enthusiastic and committed young people.
As an education charity, they believe the best way to bring sustainable employer engagement and first class professional employability skills to schools, colleges and youth organisations is by working with them to understand their individual needs and the aspirations of their learners and their parents. They offer support and fresh ideas, ensuring they can offer the very best employability skills training with practical experience.
---
Paul Cadman brings a wealth of business connections to EmployabiltyUK with a proven track record across many commercial sectors such as automotive, manufacturing, legal and recruitment, he certainly knows what employability skills are needed to be successful. More importantly, he is passionate about improving life chances for young people and is committed to helping especially disadvantaged young people to seize the opportunities to get on the first rung of the ladder to success.
In 2016, the charity was chosen to design and deliver an employability skills programme for Coventry Building Society as part of their Corporate Social Responsibility commitment. Due to its success, the programme has now entered its third year and Diane said "building on the Coventry model, we want to create similar programmes for businesses in the Black Country and have looked long and hard to find a Patron with the right skills and network to help us get traction across the region. We certainly believe we have found this in Paul."
Keith Fraser, Chair of Trustees and recently retired senior officer with West Midlands Police, formally welcomed Paul onboard at a recent meeting of the Black Country Steering Group held at Wolverhampton Science Park.
Keith said: "I'm pleased that Paul has agreed to join our charity and we hope that with his business knowledge and great influence, he can help us to continue to grow our presence throughout the West Midlands and beyond. To find someone who shares the charity's aspirations for growth and the willingness to help others is a great asset to EmployabilityUK."
Paul said of his recent appointment: "I am delighted to be supporting EmployabilityUK at an exciting time in the charity's growth.
The work they are doing to help transform young people's lives is impressive; It gets to the very heart of the issues of social mobility at a time when there are so many young people who are too far away from the labour market. Their work is more important now than ever.
I enjoyed meeting the team and I am looking forward to making a big difference in the Black Country and across the wider region."
If you are an education provider and would like to discuss how we can support you with developing an effective Employability programme, please contact EmployabilityUK on 0345 601 5551. You can also find out more about the work of EmployabilityUK by visiting www.employabilityuk.org. Follow them for updates on Facebook and Twitter @euk.