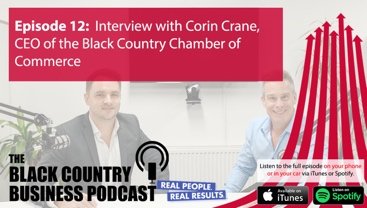 Episode 12 of the Black Country Business Podcast: Interview with Corin Crane
19 Nov 2020
Published in: Member News
---
This week we interview Corin Crane, CEO of the Black Country Chamber of Commerce
---
This week we interview Corin Crane from the Black Country Chamber of Commerce where we discuss the impact COVID19 has had on Black Country Businesses, and what has worked in helping businesses survive and grow during troubling times.
In this episode, top UK business coaches Lewis Haydon and Andy Hemming talk with Corin Crane about not only how the Black Country Chamber of Commerce has helped businesses to grow over the past year, but also lessons that Corin has experienced in leading and growing the Chamber of Commerce so that it can help more and more companies.
Corin shares with us lessons in business growth and leadership, particularly how he has transformed the team around him in the chamber. He also shares the importance of vision, strategy, and performance measures that will lead a business to greater levels of success.
Corin is a wealth of knowledge when it comes to understanding Black Country businesses. His experience and connections with firms have given him an insight into what works and what doesn't.
Be sure to listen to this episode and take notes, as the lessons that Corin shares will surely help any business owner transform their company to the next-level!
You can listen to this latest episode here.
If you would like to find out more about the people behind the podcast you visit the ActionCOACH Black Country website.
Submitted by Kerry from ActionCOACH Black Country