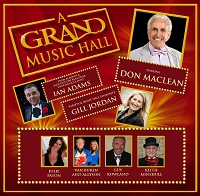 Gill Jordan Announced in the Line-Up for Wolverhampton Grand Theatre Music Hall
15 Feb 2018
Published in: Member News
---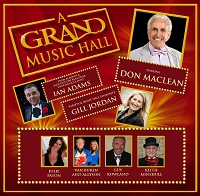 Today Wolverhampton Grand Theatre announced that Gill Jordan will join the cast of A Grand Music Hall for three performances on Monday 4th - Tuesday 5th June 2018.
Gill Jordan appeared as Mrs Clack in the 2017 Grand Theatre Musical Hall, she is perhaps best known to national audiences for playing Doreen Tipton, a character co-created with playwright and producer David Tristram.
---
Gill is a Midlands-based professional actress. Gill trained at the Birmingham School of Speech and Dramatic Art, she went on to tour nationally in plays for a number of companies including Sheila Birling in An Inspector Calls, and Florence in Spring and Port Wine for Middle Ground Theatre Company. She worked at the interactive Brewing Museum in Leeds, playing historical immersed roles and also as Charlotte Bronte at the Parsonage at Haworth for the Bronte festival.
Her passion for historical first-person interpretation led her to establish her own company, becoming nationally renowned for this form of theatre. In 1999 the company began work for the Ironbridge Gorge Museum Trust which led to them being resident professional on-site interpreters for the next 18 years. Performing Shakespeare, Dickens and all things Victorian, the company's best loved genre was the Victorian Music Hall which was performed almost every day at Blists Hill Victorian Town and other venues.
Also returning and topping the bill is actor and comedian Don Maclean. Don has appeared in pantomime at the Grand Theatre in the 1970s, last year's A Grand Music Hall and in Brummegem Pals at the theatre in October 2016.
Don has spent over 40 years in show business and is one of Britain's best loved entertainers. He is remembered for Crackerjack and The Black & White Minstrel Show which he hosted on stage as well as TV. He also had his own TV shows, Maclean Up Britain and Keep It Maclean. He has enjoyed countless summer seasons as well as appearances at the London Palladium. Don originally trained as an actor, and in the early years appeared in Midlands' soap opera, Crossroads. In recent years he has returned to his acting roots in stage productions of Go And Play Up Your Own End, Wait "til Your Father Gets Home and Back To Back. He has an MBE from the Queen, a Silver Heart from the Variety Club, a Paul Harris Fellowship from the Rotary Club, an Honorary Degree from Birmingham University and a Papal Knighthood from the Vatican.
Also returning is Grand Theatre pantomime favourite Ian Adams, who received critical acclaim as Widow Twankey in Aladdin and Dame Trot in Jack And The Beanstalk. Ian will be the musical host of the performances.
Ian was born in Sheffield and began his professional career as lead vocalist with the vocal/dance act Zeebra, touring Europe, North Africa and the Persian Gulf, during a successful Summer Season in Jersey Ian appeared in several episodes of the BBC series Bergerac. Further afield he has appeared in cabaret in Dubai, Bahrain and Abu Dhabi and Tel Aviv. In July of 2014 Ian appeared alongside Julie Paton and the late Alvin Stardust in a new revue called A Touch of Vegas which they performed with the City Orchestra at the Garrick under the Musical Supervision of Adrian Jackson. Most recently Julie and Ian have formed "StarDam" Productions and so far have successfully produced new versions of the popular Children's stories Pinocchio and Puss in Boots both of which have been performed at the Grand Theatre.
Completing the line-up are Julie Paton, Guy Rowland and Keith Minshull who all return alongside Andrew Van Buren & Allyson.
Andrew Van Buren is one of only a few Gold Star Members of The Inner Magic Circle & member of The Grand Order of Water Rats. Andrew tours the world with his partner Allyson who is the shows head girl, an expert dancer, makeup artist & magic "box jumper" as well as a Lady Ratling. A few of their notable projects include performing their illusion spectaculars at The Brit Awards, Royal Albert Hall, Glastonbury Festival & West End theatres & on luxury cruise liners around the world.
Julie Paton recently appeared at the Grand Theatre as The Harp in the 2017/18 pantomime Jack And The Beanstalk. She was born in South Wales. A path through stage and dance school found Julie leaving home at 16, securing her first role in the West End at The Vaudeville Theatre in the Strand and she hasn't looked back since. Her theatre roles include Bet in Oliver! with Victor Spinetti; Charity in Sweet Charity; Marta in Kiss of the Spider Woman Shaftesbury Theatre London, directed by Hal Prince and choreographed by Rob Marshal. Julie has played Jellylorum and Grizabella in Cats directed by Trevor Nunn and appeared in Bakers Wife, Phoenix Theatre London, again, directed by Trevor Nunn. Julie met her late husband Alvin Stardust playing alongside him in Stephen Schwartz's Godspell, and has toured and performed all over the world. Julie has her own production company, is a voice coach and choreographer, but loves nothing more than to be singing and entertaining audiences up and down the country.
Guy Rowland is known as the "one-man musical cabaret'. He was born in Lichfield in 1964. He showed an interest in music from an early age and started piano lessons at the age of seven with Reginald Bates, through whom he is a great-great grand-pupil of Liszt. He trained at Birmingham Theatre School. Upon finishing his training, he toured working men's clubs with a 1940's variety show to get the then much sought after Equity Card. After this he did a summer season in Paignton, then worked in theatre in education in Bristol and London. He devised his first one man show in 2003, a mixture of comic songs, monologues, and piano solos both classical and popular, he has since done many different versions of this show, and dreads to think of the number of pieces that have gone in and out of his head over the years. He has worked for Sundial Theatre, run by the immensely talented Gill Jordan, for twenty years, and under it's amiable umbrella has performed in plays for children, Old Time Music Hall, 1940's variety shows, and 1920's shows all over the country. In addition, they have been, since 1999 the resident theatre company at Blists Hill Victorian Town, near Ironbridge. This involves, amongst many other things, doing first person interpretation every day, as well as Music Hall singalongs in the town pub twice a day. Having loved Music Hall since he was a child, Guy is very much looking forward to returning his enthusiasm for this wonderful genre to the Grand Theatre's Music Hall.
Keith Minshull has been involved in theatre for the past 40 years as an actor performing in over 150 plays from Shakespeare, comedy, drama, farce to pantomime. He has performed all over the country including taking the lead in a play in London. For the past 20 years he has worked mainly with Gill Jordan and Guy Roland as Sundial Theatre, performing musical shows of Victorian, 20's and 40's eras all over the country. Keith is one of the onsite actors at Blists Hill Victorian Town, Ironbridge Gorge Museum, Telford.
Tickets for A Grand Music Hall from Monday 4th - Tuesday 5th June 2018 are now on sale. Performances are at 7:30pm on Monday and 11am and 3pm on Tuesday. Tickets are available in person at the Box Office, by calling 01902 429212 or online at www.grandtheatre.co.uk.