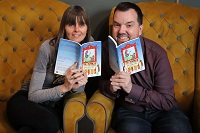 Grand Theatre Inspires Big Dreams with New Primary School Pantomime Project
29 May 2018
Published in: Member News
---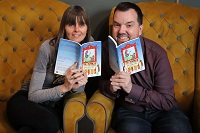 Following on from last year's Standing Tall project surrounding Jack And The Beanstalk, Wolverhampton Grand Theatre announce an exciting new educational project for this year's pantomime Sleeping Beauty - Dream Big. The project is in partnership with Promise Dreams.
Last year, the Grand Theatre worked with over 400 participants from 20 community groups to create a Giant, which stood in the foyer and across two floors of the Grand Theatre for the duration of the pantomime.
---
This year the theatre has set out to engage with Primary Schools to deliver free creative writing workshops, led by performance poet and comedienne Emma Purshouse. Emma performs nationally and is a published author, writing for both adults and children.
As part of Dream Big, Emma will work with 10 primary schools alongside Grand Theatre Creative Learning Co-ordinator James Collins. Participants from each school will be guided by Emma to help write a short bedtime story or poem. All of the completed stories will be curated into a public exhibition at the Lighthouse Media Centre during the pantomime run and a select 30 stories will be published into a book which will be designed and printed by JPL Print & Design Ltd who sponsor the project.
JPL Print & Design Ltd have consistently delivered exceptional print material to SME's and Bluechip companies for over 20 years. From humble beginnings of 2 staff, they have now grown to a team of 22 and have an impressive state of the art production facility in Halesowen.
Promise Dreams is a national charity that was launched in 2001 with the aim of making a real difference to children who are seriously or terminally ill. Every child has a dream and whatever it may be, the charity aim to make it come true. Thanks to the hard work, passion & enthusiasm of its supporters the charity has raised in excess of £3,000,000 and more than 1,800 very special children have seen their dreams come true.
James Collins said, "I'm delighted to give primary schools the opportunity to work with Emma and develop their writing skills. As a theatre, we aim to connect with the community in as many different ways as possible and this project will not only do that but will spark creativity in a way that is both fun and educational."
The workshops will take place in September and October 2018. Places are limited so please contact James Collins - Creative Learning Co-ordinator JamesC@grandtheatre.co.uk as soon as possible to register your interest.
Comments
No comments have been submitted yet.