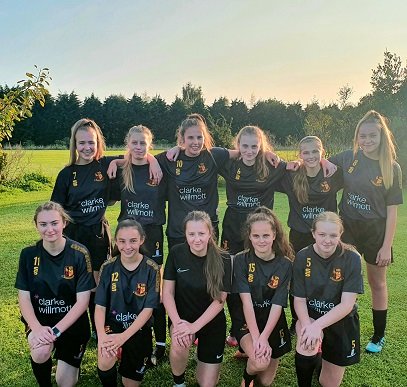 LADIES TEAM SECURES SECOND YEAR OF SUPPORT FROM LAW FIRM
09 Oct 2020
Published in: Member News
---
.
---
A Birmingham ladies youth football team kicked off the 2020/2021 season with a double celebration after securing their top sponsor for the second year running and winning their first match.
Alvechurch U16s Ladies Team gained support from local law firm Clarke Willmott LLP and won 9-0 against AFC Telford United U16s.
Clarke Willmott decided to lend their support to the team following the success of last season, which saw the girls win all their games and gain a place in the cup semi-final.
Jonathan Morton, a partner in Clarke Willmott's Commercial Property team, said: "We thoroughly enjoyed sponsoring the Alvechurch U16s Ladies team last year and we were just as disappointed as the players were when the season came to an abrupt halt due to the coronavirus pandemic.
"We were pleased to sign up again this year and see the team enjoy such a strong win in their first match. They are a very talented group of players and we're proud to assist with their development as they move towards semi-professional status."
The first game took place at the team's new home ground located at Avery Fields Sports and Events in Edgbaston, Birmingham. Jonathan continued: "We're keen to support local sports-based charities that provide youngsters with a healthy outlet for their energies, and that's especially important when resources for young people are limited and under pressure.
"The whole Birmingham office of Clarke Willmott are delighted to witness the team go from strength to strength. They have shown great resilience in the face of a long six months with no football and to come back with the performance they did raises excitement at what they can achieve in the season ahead."
Scott Wilkinson, Team Manager, said: "We are all extremely excited and proud to have Clarke Willmott support this team again for the forthcoming season. It has been really hard of late for everyone and during these unprecedented times Clarke Willmott have supported us from the outset.
"This has enabled the team to look forward to the future knowing that Clarke Willmott not only financially support the team but also the support given helps with their social and emotional wellbeing. Alvechurch FC would like to thank Clarke Willmott for the dedication they have shown this talented team."
Clarke Willmott's Birmingham office has a track record of supporting local teams and sports-based charities, including Geoff Horsfield and Sport 4 life. Clarke Willmott LLP is a national law firm with offices in Birmingham, Bristol, Cardiff, London, Manchester, Southampton and Taunton.
For more information please visit www.clarkewillmott.com

Submitted by Karen from Clarke Willmott LLP