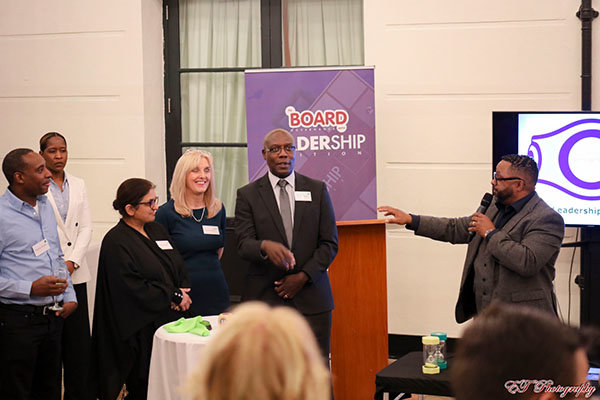 Leadership Framework Launch - Highlights
15 Apr 2019
Published in: Member News
---
This free launch is a must attend event for anyone interested in leading their organisation to the next level!
---
Open College Network West Midlands really went to town with the launch of their new Leadership Framework training package on 26 March 2019 at the impressive Hotel du Vin in the Centre of Birmingham. This was to mark over 35 years serving the West Midlands providing a wide range of qualifications and other accreditation services across industry sectors.
The event was attended by over 60 delegates from the world of business and education who came to see the Leadership Framework being showcased by 'The Governor' Dr Karl George MBE, Managing Director of The Governance Forum (TGF). Karl is an established author, international consultant, conference speaker and community champion and he had the audience totally engaged in an enthused, fun packed and dynamic demonstration of how the Leadership Board Game (a key component of the Leadership Framework package) is an interactive, team based educational tool providing participants the opportunity to perfect their leadership knowledge and behaviour.
Open College Network have worked in collaboration with TGF to develop The Leadership Framework, which is based on over 20 years of research with the premise; 'How can you lead others until you've mastered leading yourself' and goes on to include the seven steps to be an effective leader.
Open College Networks Chief Executive Christine Assheton and Chair of the Board of Trustees Chris Morecroft opened the formal proceedings with heart felt and inspiring stories detailing the history of Open College Network and how the Awarding Organisation has been able to achieve its vision by transforming lives through widening participation in education – not to mention the ceremonial cutting of a very impressive company cake to mark the occasion!
Delegates were also treated to two inspirational key note speakers, Mark Tonks and Professor Ronder Mann, who gave fascinating insights into the value and importance of good leadership, particularly in the current challenging times.
For further information about The Leadership Framework contact Open College Network on
01902 624230 or email enquiries@opencollnet.org.uk
Submitted by Keisha from The Open College Network West Midlands