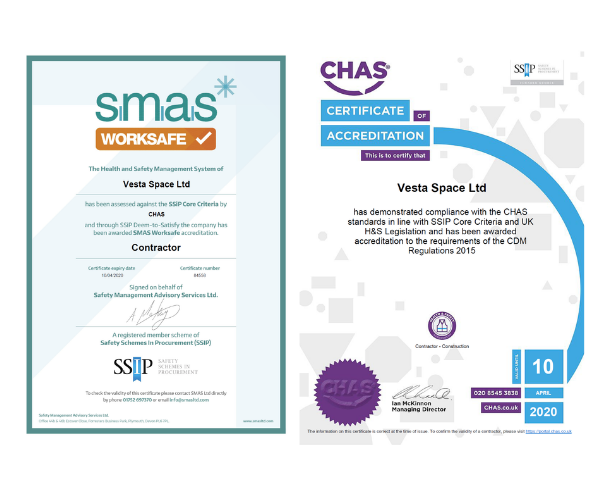 Libben Provide Consultancy Support to Vesta Space For Second Year
09 May 2019
Published in: Member News
---
Libben Health and Safety have helped Vesta Space fulfil their legal requirements for Health and Safety for the second year running.
---
Vesta Space supply and install sliding wardrobes to homeowners, developers and contractors, complete with internal storage options and tailor-made to suit the owner's requirements.
The supplier approached Libben Health and Safety over a year ago to assist them with their Health and Safety management.
According to Health & Safety Legislation, every organisation in the UK should have one (or more) persons to provide competent Health and Safety advice.
Libben offers consultancy services to companies that need to fulfil their Health and Safety legal requirements. Working together with Vesta Space, Libben put together a Health and Safety management system that not only met the company's legal obligations, it also helped them to be accredited by the Contractors Health & Safety Assessment Scheme (CHAS), Safety Management Advisory Services (SMAS) and Constructionline. These are all Safety Schemes in Procurement (SSIP) accreditations and achieving these prove to clients of the business' commitment to Health & Safety legal requirements.
By becoming assessed with an SSIP scheme, companies satisfy the criteria for all other schemes, thus saving them from having to pay multiple assessment fees.
Kevin Edwards, Managing Director for Libben Health and Safety, said: "We're proud to work with Vesta Space for another year to help them meet their health and safety needs through our consultancy services.
As a health and safety training and consultancy provider, we strive to ensure companies meet their legal requirements in a most cost-effective and efficient manner. Accidents can cost companies up to millions per year in fines and sick-pay, so it is vital that health and safety measures are put in place to keep staff safe and to help businesses retain revenue."
Jon Meek, Director at Vesta Space, said: "We take great pride in our Health and Safety credentials, however for a small business, ensuring that these are met can be time-consuming.
With the help and guidance of Libben, we have gone above and beyond our legal requirements as a business, which has helped us secure major contract awards. Impressed with what Libben have helped us to achieve, there was no hesitation in working with them again to help us fulfil our health safety duties for the second year."
Libben Health and Safety offers consultancy services to businesses for a fraction of the cost, including Specialist Services, Risk Assessment, Health and Safety Policy, Health and Safety Assistance and Fire Risk Assessment. To find out more, please call 0843 289 2201.
Submitted by Hemisha from Libben Health & Safety