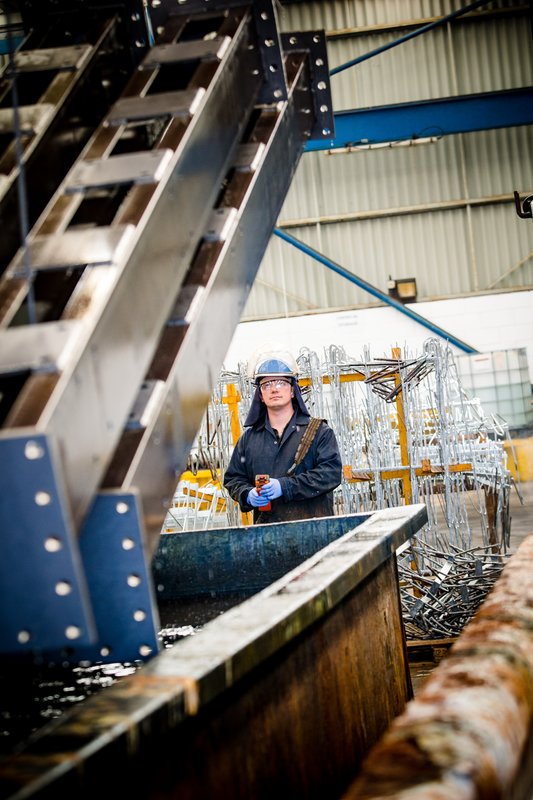 Pandemic-Proof Customer Success for Galvanizers
09 Sep 2021
Published in: Member News
---
Following a period of positive and ongoing business growth, a leading UK galvanizer is celebrating the latest results of its customer satisfaction survey.
---
Wedge Group Galvanizing Ltd, which has 14 strategically located plants across the UK, has achieved a group-wide Net Promoter Score (NPS) of 53, significantly higher than the industry benchmark.
According to ClearlyRated's 2021 annual industry benchmark report, the average NPS scores for the manufacturing and commercial construction sectors were 47 and 50 respectively. Scores between -100 to 0 need improvement, 0 to 30 is good, 30 to 70 is considered great, and above 70 is excellent.
The firm regularly undertakes the customer service surveys through the globally renowned scheme which measures customer loyalty and satisfaction. Made up of three categories — Promoters (satisfied), Passives (neutral) and Detractors (dissatisfied) — the score is worked out by subtracting the percentage of Detractors from Promoters.
"The last 18 months have been increasingly challenging and all our sites remained open throughout the pandemic to service the needs of our customers" explained Chris Woolridge, Managing Director of Wedge Group Galvanizing.
"It's testament to our teams who have worked so hard to keep up with the high demand whilst maintaining such an impressive customer service rating.
"Our Customer Promise is lived and breathed by each and every one of our 14 plants. It's a promise that we make as a group to our customers, to be flexible, to provide excellence in product and service quality, to seek their views to continue improving our service and to utilise our national network of plants."
Wedge Group Galvanizing continues to enhance its galvanizing service with investment in new fleet, new galvanizing plant and equipment (with its Worksop plant having the biggest bath in the UK), technology enhancements, as well as a commitment to further invest in more sustainable practices.
Wedge Group Galvanizing is the largest hot-dip galvanizing organisation in the UK with a history dating back over 150 years. With 14 plants strategically placed across the country, the firm offers a truly national galvanizing service.
For further information please contact Wedge Group Galvanizing on 01902 601944 or visit www.wedge-galv.co.uk.

Submitted by Jennie from Wedge Group Galvanizing Limited