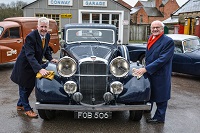 Patrick Foundation £500k Donation Drives Forward BCLM's Major Development
08 Jan 2018
Published in: Member News
---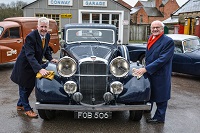 Black Country Living Museum has today launched its fundraising campaign to raise the final £1.9m for its exciting £21.7m Forging Ahead major development project. And thanks to a Midlands-based charitable foundation it's off to an excellent start.
The Patrick Foundation of Kings Norton have pledged a gift of £500,000 towards the ambitious project which will see the Museum expand by a third, plus a donation of five vintage vehicles from the Patrick Collection.
---
This substantial gift will also see an annual donation of £30,000 per year for the next ten years to support the Museum and the maintenance of its heritage vehicle collection.
In recognition of this generosity, the Museum will name the lower ground floor of its new Visitor Centre "The Patrick Gallery' and the Junior Motor Mechanic will be referred to as "The Patrick Foundation Junior Motor Mechanic'.
Trustee, Alexander Patrick CBE DL, is widely known for his charitable work being awarded a CBE in 2012 recognising his support for charities, and has previously supported several of the Museum's past projects, including the Museum's much loved access vehicle "Doris'.
Andrew Lovett, Museum Director said: "We are absolutely thrilled to receive such a generous donation from The Patrick Foundation towards our exciting project for the Museum, its visitors and the wider community. I personally can't wait to see the vintage vehicles help bring our new 1940s - 60s town to life."
Alex Patrick, Trustee of The Patrick Foundation comments: "I have had a long association with Black Country Living Museum and am delighted that, after discussions with the Museum some years ago, The Patrick Foundation is now forming a long term relationship in recognition of the Museum's outstanding contribution to the Black Country's heritage. My Grandfather, Albert M Patrick, started his career with Britannic Assurance in 1898 as assistant district manager at their Wolverhampton offices thus providing a further strong and 120 year connection with the region."
To find out how you too can make a donation to support BCLM: Forging Ahead, either as a business or as an individual, please visit www.bclm.com/forgingahead.