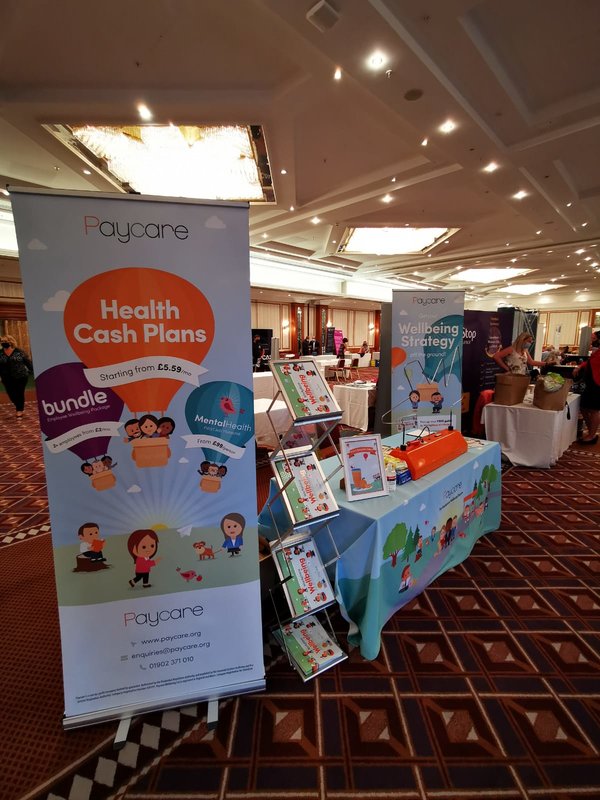 Paycare puts employee health and happiness on the agenda at Leicester Expo
24 Aug 2021
Published in: Member News
---
The Health Cash Plan and Wellbeing Training Provider has announced it will attend a second event next month
---
Hundreds of Midlands businesses are set to find out more about keeping their workforce happy and healthy.
A team from Health Cash Plan and Wellbeing Training provider Paycare will be attending the Midlands Business Network Expo at King Power Stadium in Leicester next month (Thursday 16th September).
It's the second MBN Expo this year for the not-for-profit organisation, who marked their return to exhibiting at the June event in Solihull.
Reflecting on the day, Corporate Account Manager Stephen Burton-Pye said it was fantastic to use Paycare's new display materials for the first time, which included details of their Health Cash Plans and Mental Health First Aid training.
"Naturally, there are still many businesses who aren't ready to resume face-to-face events yet – we are extremely mindful of this and plan to retain a blend of online, telephone and in-person meetings for the foreseeable future. But for those who were keen to meet in-person, it was great to have the opportunity to do so, following all of the Coronavirus safety guidelines of course.
"It was great to see and chat to hundreds of people – our brand-new Wellbeing Brochure received lots of lovely, positive feedback and our Buzz Wire game was a great way of engaging people to come over and chat to us.
"We were so impressed with how smoothly the event was run and we can't wait until the Leicester Expo so we can chat to even more organisations about how Paycare can support the health and wellbeing of their employees.
"In the meantime, we'll keep supporting businesses through a variety of communication channels so they can contact us in any way they feel comfortable to do so."
Paycare's Commercial Director Anthony Burns added: "It's a really exciting time for us, having just launched our Workplace Wellbeing brochure which gives organisations lots of ideas about supporting the physical, mental, financial and emotional wellbeing of their teams.
"Given the events of the past 18 months, support for employees has never been higher up the agenda – and that's why we'll be on hand to chat to managers and team leaders who want to know how to introduce effective policies and practices which are beneficial for individuals, and their company as a whole."
Attendees will also be able to find out about Paycare's range of online and in-person training opportunities accredited by Mental Health First Aid England.
Anthony added: "An awareness of mental ill health and the signs and symptoms which can be apparent when an employee's wellbeing is dipping is such an important part of being a manager. Without the knowledge of where to signpost a team member, and the confidence to start those important conversations about mental health, it is incredibly difficult to support others in the workplace."
If you'd like to attend the Expo, you can visit themidlandsbusinessnetwork.co.uk/events/the-midlands-business-network-expo-sept2021 to book your free ticket – you'll be able to find the Paycare team at Stand 29 on the day. Or to find out more about Workplace Wellbeing, simply visit paycare.org/workplace-wellbeing.
Since 1874, Paycare (formerly known as Patient's Aid Association) has worked to help individuals, families, businesses, and their employees access a variety of preventative and reactive healthcare services which protect their financial, physical and mental health and wellbeing. Its dedicated mental health service — Paycare Wellbeing — launched in 2019 and provides qualified and confidential training to Corporate Groups including Managers, CEOs and HR teams.

Submitted by Jennie from Paycare