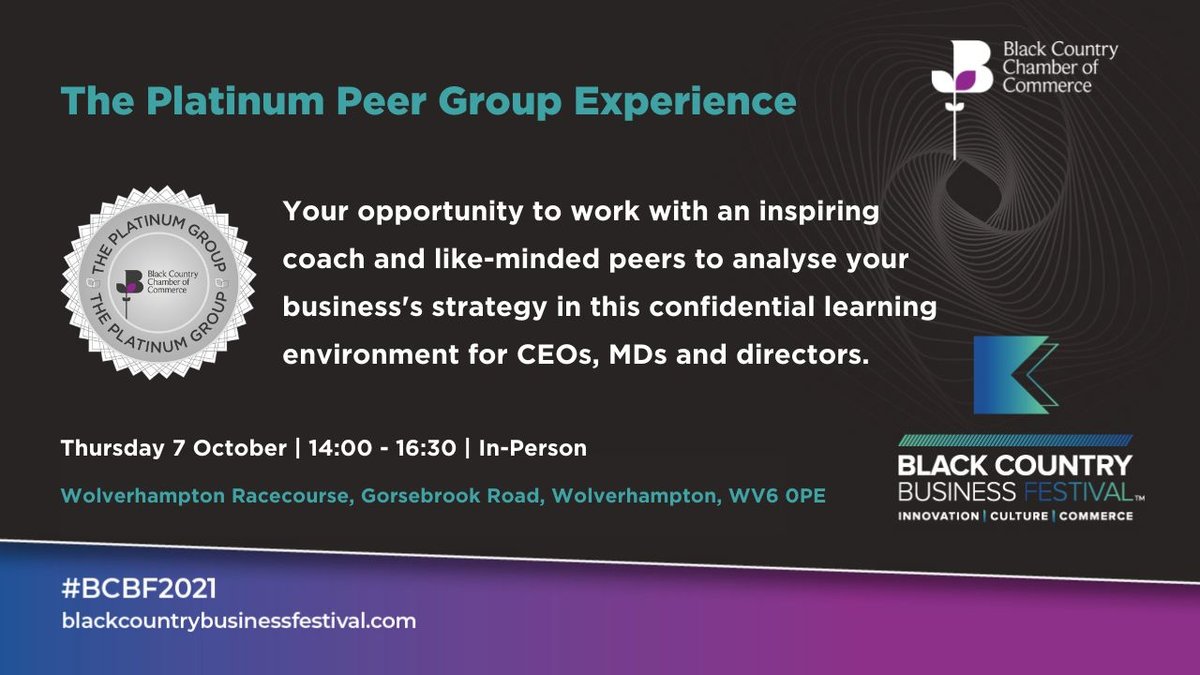 PEER TO PEER LEARNING EVENT ANNOUNCED FOR BUSINESS FESTIVAL
20 Sep 2021
Published in: Black Country Chamber of Commerce News
---
PEER TO PEER LEARNING EVENT ANNOUNCED FOR BUSINESS FESTIVAL
---
PEER TO PEER LEARNING EVENT ANNOUNCED FOR BUSINESS FESTIVAL
THE PRACTICE HAS NEVER BEEN SO IMPORTANT AS IT HAS BEEN IN RECENT MONTHS
During the Covid-19 lockdowns, thousands of business owners have relied on peer-to-peer support finding the guidance and advice from fellow business owners integral during the pandemic; motivated by positive conversation with many revealing it's been crucial to know that other business owners have and continue to experience similar challenges.
It is a well-known fact that entrepreneurs seek business advice, not from a close family member or friend; but from like-minded business professionals, demonstrating the value of peer to peer working.
So, as the Black Country Chamber of Commerce prepares to open its annual Business Festival for the fourth year running, the usually very private peer to peer working group is opening its doors to directors and chief executives from across the region to give a bird's eye view on how some of the region's top companies work together to tackle some of the major issues affecting firms today.
As part of the Black Country Business Festival, Gail Arnold, head of premium membership at the regions longest running business support organisation, and former SAS trainer, managing director of HomeServe and now leading business coach, Bankie Williams, have teamed up for a one-off special FREE event during the Business Festival, which will be held at Wolverhampton Race Course on Thursday 7th October from 2pm.
Business leaders from across the region are being invited to attend the 'Platinum Peer Group Experience', which is planned to give them a real taste of working with an inspiring coach helping them to analyse their strategy in a confidential peer to peer learning environment, and where fellow delegates act as a trusted board of advisors in a non-judgemental environment.
Places are limited for the event so booking early is highly recommended.
To make your booking: The Platinum Peer Group "Experience" https://bcbf-2021.ticketleap.com/the-platinum-peer-group-experience/
-Ends-
The Platinum Groups provide an exclusive platform for business leaders and senior-level representatives to come together and tackle challenges which impact their organisation and explore opportunities to improve the region's prospects.
Throughout the pandemic, the group has met virtually to discuss and tackle some of the most pressing and important issues businesses have faced in many years.
Meeting regularly, the Platinum Group members benefit from confidential peer-to-peer discussions and learning, the chance to gain perspectives from other sectors and businesses and build long-lasting relationships.